Marriott teams with the Leafs for loyalty play
A new partnership marks the hotel company's first foray into sport sponsorship in Canada.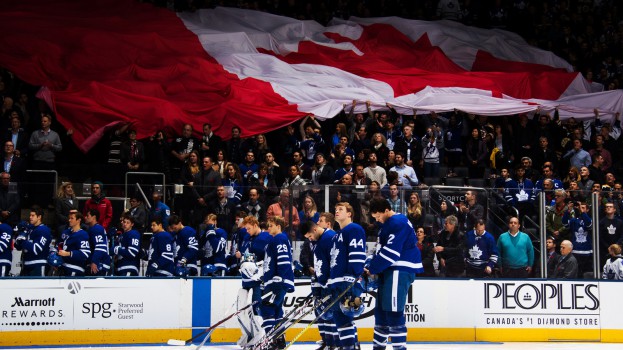 Marriott International has signed a partnership deal with Maple Leaf Sports and Entertainment, its first foray into sports affiliations in Canada.
The deal will put members of the Toronto Maple Leafs in Marriott-owned hotels when they're on the road. Marriott, in turn, is leveraging the team for a bit of advertising and to engage its 3.7 million loyalty program customers.
"The cross-country popularity of hockey makes the Maple Leaf Sports and Entertainment an ideal partner to provide members of Marriott Rewards and [Starwood Preferred Guest] with once-in-a-lifetime experiences," said Don Cleary, president of Marriott International Canada. "We know that Canadians… travel for experiences and our partnership with the Toronto Maple Leafs unlocks the potential for memorable travel."
Marriott brands are popping up on rink boards at the team's Air Canada Centre arena (Marriott owns 19 hotel banners at various point on the value scale, from the luxury Ritz-Carlton to longer-term traveler hotels such as Residence Inn). Loyalty members are now able to trade in points for special game packages that include meeting former players.
To kick the partnership off, a family visiting Toronto at the company's downtown Delta Hotel saw their tickets to a Leafs game unexpectedly upgraded to platinum-level seats, which included a visit with former Leafs Darcy Tucker and Johnny Bower.
Toronto is an important market for the hotel company. Michelle Bozoki, VP of brand, marketing and digital for Canada, says 41% of its Canadian Marriott International portfolio is in Ontario. Moreover, the company's customer data revealed a large number of its loyalty members are "raving" hockey fans. "This partnership gives us the opportunity to surprise and delight our Marriott Rewards and SPG members with the kinds of authentic Canadian experiences they desire," she said.
"The partnership provides many ways for us to reach Maple Leaf fans across the country in a relevant way – at the games, digitally, socially, and through broadcast."