Ricardo Media's retail investments expand again
The magazine is positioning its permanent bricks-and-mortar locations around new "Eat Together" brand messaging.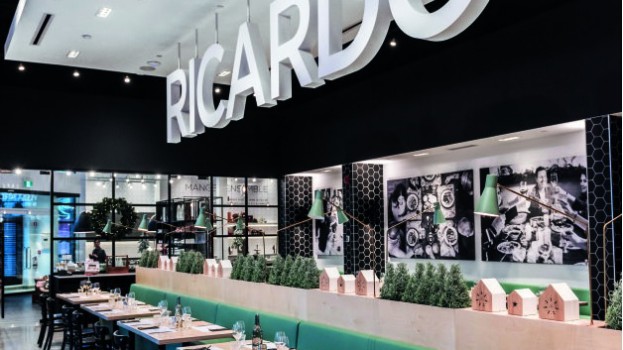 Ricardo Media wants its new retail concept to be more than a pop-up gimmick.
The publishers of French food magazine Ricardo opened their first brick-and-mortar location, a culinary boutique, in Montreal three years ago. Two years later, it opened a café concept in Laval. Now, it's hoping for a three-peat, debuting Ricardo Restaurant on the north shore of the Montreal island.
Like the other bricks-and-mortar locations, it's designed to function as a permanent business.
The restaurant, which also contains another boutique concept, will offer seasonal food items that complement the magazine's creative, luxury content. Many of the recipes served in the location will come from those featured in Ricardo's magazine and website (such as gnocchi seared with caramelized cauliflower). In the boutique, culinary pros will also show customers how to use the cookware they're about to take home (the store contains more than 400 different accessories and devices).
It all revolves around Ricardo's new brand positioning of "eat together," said Mireille Arteau, commercial director with Ricardo Media. The restaurant is less about revenue diversification (Ricardo remains Canada's most popular French magazine and continues to grow its digital footprint, reaching 665,000 readers digitally per issue, according to the latest Vividata numbers, up from 653,000 the previous quarter) and more about building on its brand.
"When you walk into the space, it should feel like a 3D magazine," she told MiC. "The retail concept works very well as a complement to the magazine."
Ricardo Media worked with Aurura Consultants on its retail expansion, tracking the habits and motivations of its customers. While evaluating the traffic to its first two locations, the team found that despite a high number of local visitors, many came from afar. "Customers were willing to come a long way, from the north shore of the island and even from Quebec and Ottawa-Gatineau," said Arteau.
Ricardo has yet more retail expansion ambitions – another coffee shop will launch next year, followed by one in Ottawa in 2019.