Brands can finally promote their story on Snapchat
The new unit offers advertisers access to the story format, allowing them to get their message across in multiple posts on users' feeds.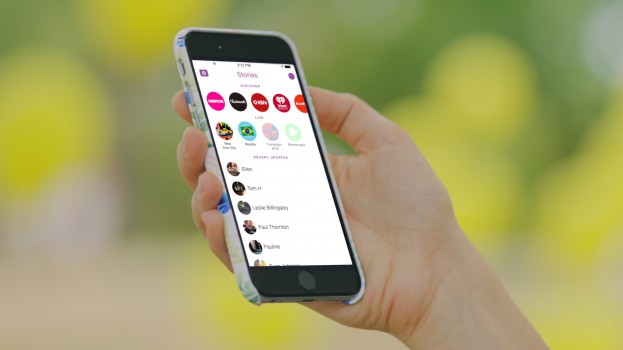 Snapchat has introduced another new option for brands: promoted stories.
The new global ad unit offers advertisers access to the story format, with boosted placement to reach Snapchat's audience. Brands can post three to 10 Snaps that auto-advance in order to tell a longform story. Like all Snapchat stories, they appear fullscreen with sound on. Each Snap can also offer a "swipe up" option to view to a website, article or app install.
The stories can be purchased as a one-day takeover, meaning they will be prominently displayed on users' homepages in the "stories" section. Takeovers are done country-wide and prices are based on a fixed takeover. Buyers will receive metrics including total impressions in the home feed, total story opens, total earned impressions, unique impressions and conversions.
Previously, advertisers wanting to promote themselves in the Snapchat feed were able to do so through a single Snap post, but not a longform story.
The new ad format is available worldwide, with HBO running the first promoted story unit in the U.S. The network will run a story highlighting the reasons why shoppers should stay inside this Black Friday, and linking to free episodes of Game of Thrones for streaming. Asos will be the first promoted story advertiser in the U.K. and France, with a story that spotlights a series of "night out-worthy" looks for Black Friday.
No immediate Canadian advertisers for the unit have been announced yet.
While Snap could not offer comment on how exactly the unit would fit into Snapchat's upcoming app redesign (the company announced earlier this month during its earnings presentation that it would overhaul the app interface in order to cut down on user confusion), the company did confirm in a statement that it "will continue to have prominent placement."
Snap's closest competitor, Instagram, does integrate an ad unit into its stories, those units consist of a single photo or video post, not a story consisting of multiple posts.