Spotted! Sunwing makes Black Friday a bit orange
Contests and bathing suits fill a Toronto pop-up that vies for Black Friday bargain hunters.
On a chilly Queen Street West in Toronto this morning, past an orange bus shelter and a long orange banner stretched along a parking fence, there are a handful of orange-hatted pedestrians waiting in a line, sipping Jamaican coffee and waving through a window at two people in orange bathing suits.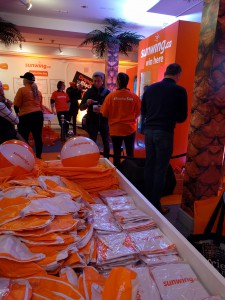 Sunwing Vacations has jumped on the Black Friday bargain bandwagon and opened an pop-up to promote its deals on winter getaways.
Working in partnership with Bell Media (which owns the real estate housing the event and shot segments for its CP24 news station on site), the vacation seller will re-purpose the space each day to cater to a new vacation destination. It kicked off with Jamaica, offering Jamaican coffee, music and travel prizes. Cuba, Mexico and Bahamas are on deck until the execution winds down on Cyber Monday.
Each person through the door is given a boarding pass by Sunwing flight attendants, which they can use to select a prize from a vending machine (prizes range from discounted air fares to free vacations). Staff are on site for those who wish to book a flight on the spot.
Branded swag was also handed out to those waiting in the cold, and part of the indoor space was set aside as a photo booth with a beach-y backdrop.
This is not the first pop-up store Sunwing has opened this year. It launched an high-end concept storefront at Toronto's upscale Yorkdale shopping mall in the fall, but this weekend's downtown location is designed with more of a bargain/contest/giveaway vibe, in keeping with the Black Friday theme.
"What we found with the Yorkdale store is that people like to immerse themselves in the destinations, touch them," said Jacquleine Grossman, senior marketing director for Sunwing Vacations. While online advertising is very accessible, pop-up retail affords a more personal touch. "Making a vacation choice is a big decision. Having the opportunity to speak to someone about it [is very valuable]."
Gabor Group designed the pop-up's store design and oversaw the social elements of the execution. VMC Media oversaw media buying, and Punch oversaw PR and media relations.