Rec Media acquires Adbloc's outdoor ski network
As one company leaves the ad sales business, another extends its network into Quebec for the first time.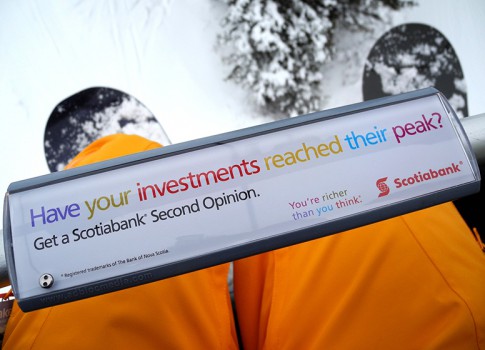 Rec Media has announced the acquisition of Adbloc Media's outdoor network, which is made up of approximately 15,000 ad faces on chair lifts at ski hills.
Adbloc will still sell the physical devices that house the ads, partnering with Rec on global sales going forward (the device currently adorns chair lifts in Japan, New Zealand and several European and South American countries). However, it had signed over its ad selling business to Rec for an undisclosed sum.
"We were always a one-media supplier," said Peter Machalek, a partner in Adbloc. "We can't really compete with just one medium. Rec is in a much better position to sell this as part of a network."
Rec focuses on recreational facilities, holding inventory in more than 4,000 arenas and gyms across the country.
"An athletic facility doesn't have to have four walls," said Andy Querin, chief financial officer at Rec Media. "We wanted to extend our offer reaching high-income families and parents."
The deal also extends Rec's network into Quebec for the first time, thanks to presence at hills such as Mont Saint-Sauveur and Mont Tremblant.
This inventory has been used by national advertisers including Scotiabank, BMW and Rogers since Adbloc began selling it in the 2009/2010 ski season. Rec has taken on a few existing local advertiser contracts that will carry forward into this year's season.