Big Bang stands alone at the top: Numeris
The Good Doctor knocked the younger Sheldon from its number-two spot, while the American Music Awards made gains over last year.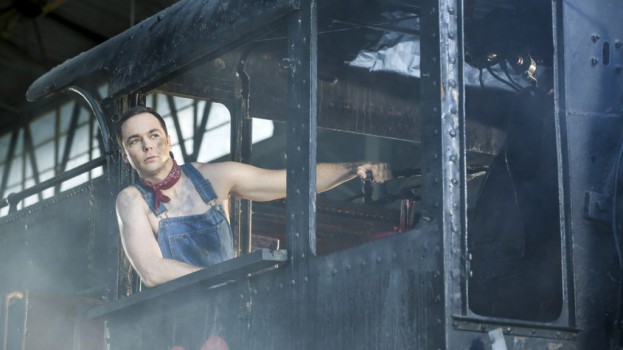 The Big Bang Theory continued to lead the week for television ratings. CTV's comedy, which has been untouchable in the number-one spot since its eleventh season premiered in October, pulled off an AMA of 3.24 million viewers for the week of Nov. 13 to 19, beating out all single-night programs in the country.
Its spinoff Young Sheldon, which for two weeks came in just behind its predecessor, moved to the third spot this week, with medical drama The Good Doctor taking back the second spot. The Good Doctor had been knocked into third place with Young Sheldon returned to the airwaves in early November, and then saw a week off the charts after not airing an episode on Nov. 6.
Once again, Global rounded out the top five, with NCIS and Survivor maintaining ratings in the low-two million range.
In terms of special event programming, the American Music Awards pulled off 1.86 million average viewers, coming in seventh in the nation. The event saw a slight lift in its AMA from last year, which was 1.54 million. It also landed in the top-five in both the Montreal and Toronto markets.
In the Francophone market, reality competition series La voix junior experienced its ninth straight week in the number-one slot (2.07 million viewers, up from last week's 1.9 million).
Canada
1. The Big Bang Theory on CTV Thursday at 8 p.m.: 3.24 million viewers
2. The Good Doctor on CTV Monday at 10:01 p.m.: 2.86 million viewers
3. Young Sheldon on CTV Thursday at 8:30 p.m.: 2.78 million viewers
4. NCIS on Global Tuesday at 8 p.m.: 2.09 million viewers
5. Survivor on Global Wednesday at 8 p.m.: 2.07 million viewers
Montreal (Anglophone)
1. The Big Bang Theory on CTV Thrusday at 8 p.m.: 117,000 viewers
2. The Good Doctor on CTV Monday at 10:01 p.m.: 115,000 viewers
3. Young Sheldon on CTV Thursday at 8:30 p.m.: 97,000 viewers
4. The American Music Awards on CTV Sunday at 8 p.m.: 94,000 viewers
5. This Is Us on CTV Tuesday at 9 p.m.: 86,000 viewers
Quebec (Francophone)
1. La voix junior on TVA Sunday at 7 p.m.: 2.07 million viewers
2. Unité 9 on SRC Tuesday at 8 p.m.: 1.52 million viewers
3. L'échappée on TVA Monday at 8 p.m.: 1.25 million viewers
4. Boomerang on TVA Monday at 7:30 p.m.: 1.17 million viewers
5. Conversation Secrète on TVA Sunday at 9:07 p.m.: 1.14 million viewers
Toronto/Hamilton
1. The Big Bang Theory on CTV Thursday at 8 p.m.: 686,000 viewers
2. The Good Doctor on CTV Monday at 10:01 p.m.: 653,000 viewers
3. Young Sheldon on CTV Thursday at 8:30 p.m.: 610,000 viewers
4. The American Music Awards on CTV Sunday at 8 p.m.: 562,000 viewers
5. Hockey Night in Canada on CBC Saturday at 7:23 p.m.: 490,000 viewers
Edmonton
1. CFL Playoffs on TSN Sunday at 1 p.m.: 192,000 viewers
2. The Big Bang Theory on CTV Thursday at 8 p.m.: 147,000 viewers
3. Young Sheldon on CTV Thursday at 8:30 p.m.: 123,000 viewers
4. MacGyver on Global Friday at 9 p.m.: 115,000 viewers
5. The Good Doctor on CTV Monday at 8:01 p.m: 87,000 viewers
Calgary
1. The Big Bang Theory on CTV Thursday at 8 p.m.: 189,000 viewers
2. CFL Playoffs on TSN Sunday at 1 p.m.: 182,000 viewers
3. Young Sheldon on CTV Thursday at 8:30 p.m.: 153,000 viewers
4. The Good Doctor on CTV Monday at 8:01 p.m.: 152,000 viewers
5. NCIS on Global Tuesday at 8 p.m.: 109,000 viewers
Vancouver/Victoria
1. The Good Doctor on Monday at 10:01 p.m.: 206,000 viewers
2. The Big Bang Theory on CTV Thursday at 8 p.m.: 188,000 viewers
3. NCIS on Global Tuesday at 8 p.m.: 183,000 viewers
4. Survivor on Global Wednesday at 8 p.m.: 168,000 viewers
5. Bull on Global Tuesday at 9 p.m.: 164,000 viewers