ICYMI: Meet the new Globe and Mail
Plus, the Facebook Journalism Project pairs with Ryerson, and the latest Canadian theatre stats.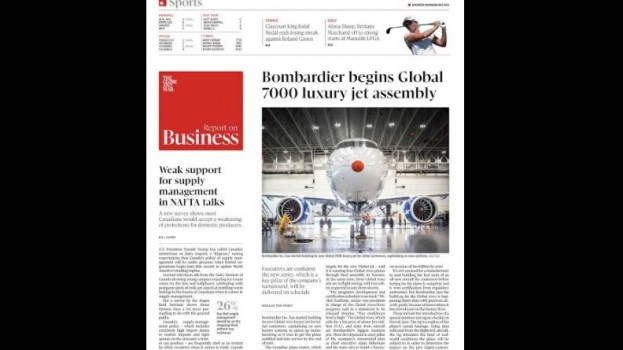 The new Globe and Mail goes live
The Globe and Mail's first major print redesign in seven years hit newsstands today. In print, the weekday Globe will feature two expanded sections – the A section combines news, life and arts, while the B section offers the Report on Business, Globe Investor and Sports. The paper's Real Estate section has gone national, and will be published on Fridays. The new Weekend Globe will introduce new sections as well. Both the paper's physical and digital formats have also been redesigned to reflect a more data-driven mission.
Le Devoir digital work wins big
At the 2017 Concours Boomerang awards, hosted by Infopresse, Montreal daily Le Devoir and its agency Écorce received two grand prizes and the overall 2017 Boomerang Grand Prix, recognizing a successful shift to digital media. Le Devoir's digital ventures include the launch of a mobile app and a promotional campaign that zeroed in on the "fake news" epidemic (resulting in more than $500,000 in fundraising). That initiative was also awarded by the World Association of Newspapers and News Publishers this fall.
More money being spent in theatres: study
Canada's movie theatre industry generated nearly $1.8 billion in operating revenue in 2016, up 7.1% from 2014, according to Stats Canada's biennial report. Box office sales alone totaled $943 million last year, up 3.8%. The actual number of tickets sold has only gone up 0.7% since 2014, but despite the lack of growth, the report determined that "those who are attending and purchasing tickets are now spending more money at theatres."
This story appears in full in Playback.
Facebook partners with Ryerson for the Journalism Project
The Facebook Journalism Project, which launched in January, has partnered with the Ryerson School of Journalism and its business incubator DMZ. The resulting program, called the Digital News Innovation Challenge, will provide five digital news and information-related startups with five months of incubation at DMZ's Toronto-based development space, Sandbox. Each start-up will also receive $100,00 in non-dilutive seed capital and $50,000 in Facebook marketing budget.