The Daily Hive's unconventional new Instagram ads
An Instagram purge inspired by Taylor Swift yielded impressive social engagement for Nude Vodka.
Digital media company Daily Hive Vancouver got the inspiration for its latest ad execution from a surprising source: Taylor Swift.
When the pop star famously wiped out her entire Instagram profile in August in anticipation for the promotion of her new single, Alex Harvey, CEO of the company's creative division, immediately thought of how the Daily Hive could use it.
"We were surprised that a publisher had never attempted that with a brand before," Daily Hive co-founder Manny Bahia told MiC. Several months later, the company decided to pull a T-swift of its own.
On Nov. 27, it deleted thousands of posts from the social network. The following day it posted three photos that, together, spelled the word "Nude." Finally, the following day, it posted another six photos that, when combined in the Instagram feed, served as an ad for Nude Vodka.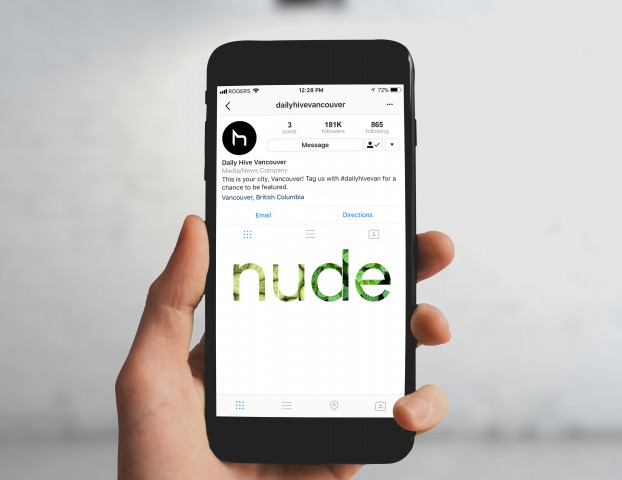 It was a risk, admitted Bahia. For one thing, deleting the thousands of pictures of the city's restaurants, hot spots and influencers that viewers had come to expect ran the risk of convincing people that the site was going away. But perhaps the biggest risk, said Bahia, was that such a move would make the Daily Hive seem like a "billboard" to a single brand.
"We definitely can't over-use it," he said.
Despite the risk of losing followers, the Daily Hive's follower count remained unscathed. For Nude, its account grew by 2,500 followers in three days, it saw more than 59,000 Instagram story views, over 371,000 impressions, more than 9,000 points of engagement, over 5,700 comments and over 8,400 likes.
How often Daily Hive Vancouver does something like this "remains to be seen," said Bahia, but the company isn't ruling out a sequel. "We're going to do it until we feel that it's going to start declining."