Sunwing flies to the top: Media Monitors
Toronto saw a shake-up in its top radio advertisers last week.
Sunwing Vacations led a group of almost completely new chart-topping advertisers in Toronto last week. The latest Media Monitors chart, which covered the week of Nov. 27 to Dec. 3, showed Sunwing jumping to the #1 slot from #17 last week.
In second place was OLG, up from #9, while the Ford Dealers Association slipped one spot to #3. In fourth was the LCBO, up from #34, and rounding out the week was McDonalds, which made the short climb from #8.
New to the list was Neutrogena in #6.
Despite all the shake-ups in Toronto, CTV remained at the top of the Montreal charts yet again. That was followed by Shopico and Crave TV, which made jumps from #38 and #53 respectively. In the fourth spot was Hudson's Bay, which fell one spot from the previous week. Rounding out the top five was, again, Sunwing Vacations, up from #8. Television and cable TV were back on top as the biggest category buyer in the city, buying 118 more spots than last week.
Toronto, by brand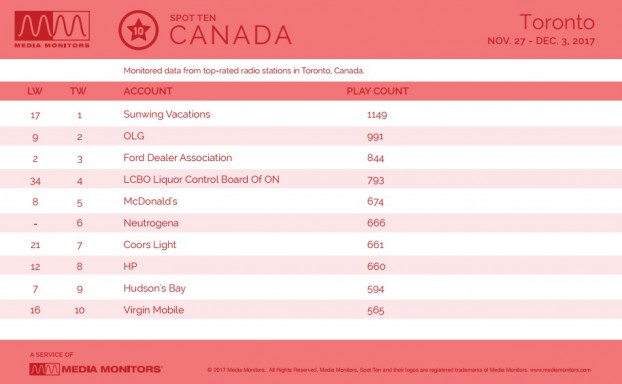 Toronto, by category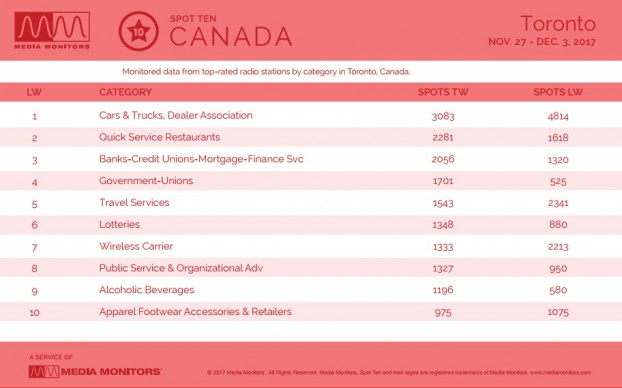 Montreal, by brand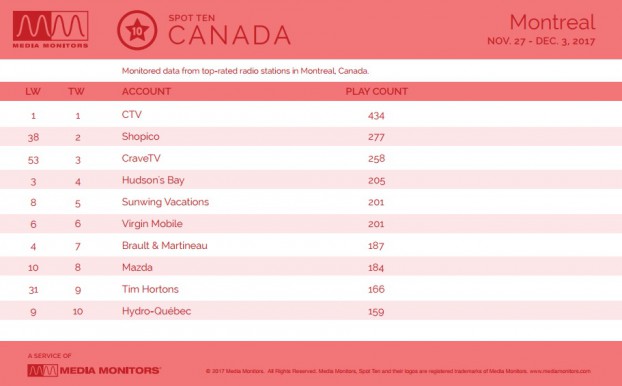 Montreal, by category