CBC becomes Canada's official rugby broadcaster
A multi-year deal with Rugby Canada will follow the country's teams to Tokyo 2020.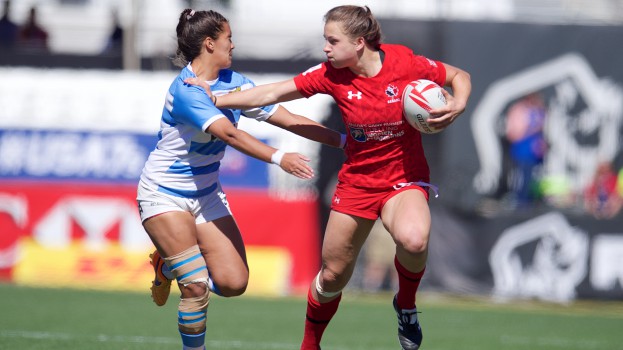 CBC Sports has announced a multi-year partnership with Rugby Canada that will see men's and women's rugby sevens tournaments broadcast through the pubcaster's linear and digital channels.
The first broadcast of the deal began with the HSBC World Rugby Series tournament in Dubai on Nov. 30 and continues this weekend with a Cape Town tourney. Coverage of Canada's two national teams extends across 10 men's and five women's tournaments, as well as the Rugby World Cup Sevens 2018 tournament in San Francisco and the Toyko Olympic Games in 2020.
Sevens is a rugby format wherein teams of seven players play seven-minute halves – a format where Canada's teams have been proving themselves internationally. The women's squad won bronze at the Rio Olympics in 2016 and claimed their third cup final trophy in Sydney, Australia in February. The men's team won its first-ever cup final in Singapore in April.
Allen Vansen, chief executive officer of Rugby Canada, said the sport has "tremendous momentum" in Canada, which saw CBC give "record coverage" to the sport during the Rio Games.
CBC Sports has signed several amateur sport broadcast deals in 2017 as part of its Road To The Olympics coverage and to deepen its connections among non-major league associations. In June, it signed a four-year deal with the the Fédération Internationale de Natation (FINA) to become the exclusive Canadian broadcaster for its swimming competitions, and was the official national broadcaster of the FIG Artistic Gymnastics World Championships in October.
A spokesperson for CBC said the broadcaster will pursue sponsors for its rugby coverage.