Google aligns with sports to market its digital assistant
Marketing head Fabricio Dolan admits sports sponsorship isn't normally something Google would invest in, but it got personal with the Raptors.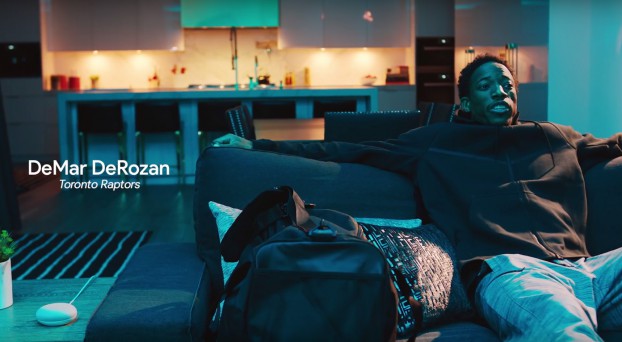 Google Canada has launched its first campaign for the Google Home Mini in Canada with a relatively new marketing strategy for the brand: aligning with sports. The Google Home has become the official smart speaker of the Toronto Raptors.
The partnership will be communicated through a multiplatform campaign including TV spots on Sportsnet and TSN, OOH advertising, YouTube pre-roll, social and influencer integrations. It also includes 12 in-game activations from now until April where fans during Friday night Raptors games will have a chance to win the product.
Google also collaborated with a trio of fan-favourite Raptors (DeMar DeRozan, Jakob Poetl and Pascal Siakam) to create a series of videos that show fans how they use Google Home. Fabricio Dolan, head of marketing at Google Canada, told MiC these videos were key to the campaign, and helped bridge the gap between Google's identity as a tech company and the obvious sports connection.
"Ordinarily, title sponsorship wouldn't be something that we would look to do if it isn't something that's really showing the product," said Dolan. "The goal was to sell the idea of the digital assistant on a personal level. The Raptors themselves are users, they have morning routines, they have commutes, they have playlists. That's key for us."
Shooting guard DeRozan will also be featured in an upcoming YouTube video with Unbox Therapy creator Lewis Hilsenteger. Hilsenteger, a Newmarket-based YouTuber, is one of the most prolific creators in the "unboxing" genre, with more than 9 million subscribers to his name. (He's currently also working with Telus to reach cord cutters in Western Canada.)
Google's OOH media buys were handled through PHD, while its digital buys were a combination of internal work and collaboration with WPP's Essence. The Raptors partnership was handled directly with MLSE. Environics worked on PR as well as influencer relations.