OLG stays on top: Media Monitors
CTV fell off the top of Montreal's radio spending ranking, giving way to another Bell-owned brand.
OLG appears to be on a winning streak in Toronto as the advertiser with the most radio buys in the city.
The most recent Media Monitors charts, which cover Dec. 10 to 17, show that the provincial organization held its spot as the top buyer, while its Slots and Casinos division also made big buys, landing at #4 on the charts.
Between the two were Spence Diamonds at #2 (up two spots from the previous week) and Staples at #3 (in the same spot from the week before). Rounding out the top five was Shoppers Drug Mart, which fell from #2 the previous week.
New to the list was the Acura Dealers Association.
Car and truck dealer associations increased their buys almost threefold over the previous report, making those advertisers the highest buying category of the week. They were followed by local dealers, although that category still purchased less than half of what dealer associations purchased.
In Montreal, CTV finally slipped out of the top spot and off the top 10 entirely. It was replaced by another member of the Bell family – Bell Mobility – which moved up the list from #20. Shopico held the #2 spot for the second week in a row, while Pharmaprix entered the list at #3. Furniture retailer Brault & Martineau climbed two spots to #4, while Hudson's Bay landed at #5 (up from #7).
New to the list was HBO Canada at #7.
Wireless carriers purchased slightly fewer spots than the previous week (579 down from 599), but with television and cable TV out of the picture, the category ended up as the highest buyer in Montreal.
Toronto, by advertiser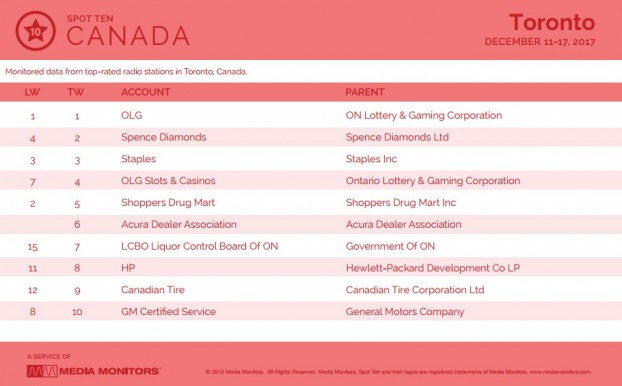 Toronto, by category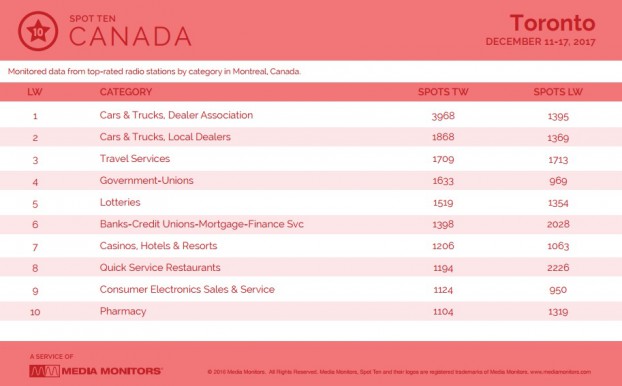 Montreal, by advertiser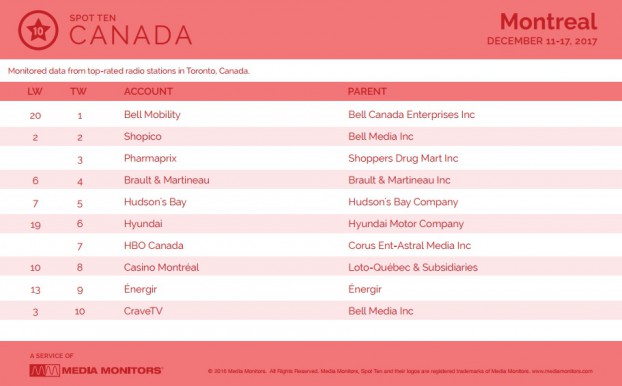 Montreal, by category