ICYMI: Bell's Let's Talk is back with new and familiar faces
Plus, Nike makes the most of a massive TV buy.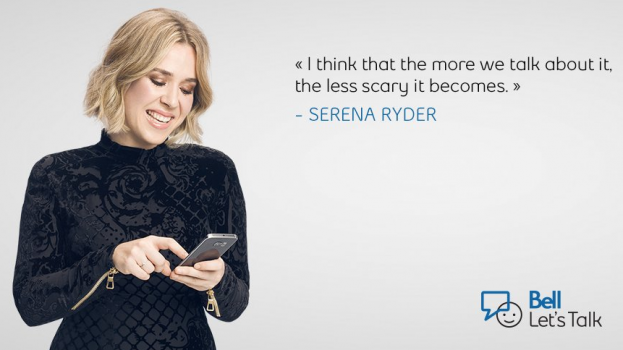 Let's Talk promos launch on TSN and RDS
The awareness campaign for Bell's 2018 "Let's Talk Day" officially commences today. To build anticipation for the global mental health awareness day Jan. 31, Bell Media will air spots on sports networks TSN and RDS featuring Canadians discussing their own experiences with mental illness. Long-time spokespeople Howie Mandel, Marie-Soleil Dion, Serena Ryder, Michael Landsberg, Michal Mpambara, Stefie Shock, Mary Walsh and Étienne Boulay will re-join the campaign. Sports personalities showcased will include Leafs head coach Mike Babcock, golfer Andrew Jensen and retired CFL player Shea Emry. Three new ambassadors have joined the effort as well, including author Florence K, actor and comedian Jessica Holmes and actor Véronique Bannon.
Nike makes the most of a massive buy
After Nike Canada made a massive television buy (through agency Jungle Media) for the World Juniors Hockey Championship, it made the most of its TV spots by turning the campaign into a story. Its "Play Nice" campaign began airing Dec. 26, and features a Canadian athlete in his pre-game training routine. While not in training mode, the athlete is polite and generous, having helped an elderly neighbour take out the trash. But once he begins his training routine, the mood is different. But in a creative twist, the campaign features nine slightly different versions of the same 90-second spot. Each version features subtle changes where the athlete is more focused on winning and less polite.
The goal was to ensure that viewers weren't subjected to the same commercial multiple times, thus building brand affinity. Wieden+Kennedy handled creative strategy for the campaign.
Playback unveils most-watched Canadian originals
MiC sister publication Playback has compiled Numeris data on Canada's major broadcasters to reveal which Canadian-made television shows had the highest average audiences for the year. CTV's The Amazing Race Canada took the top spot with an average of 1.76 million viewers per episode, followed by the first season of the Russell Peters-fronted comedy The Indian Detective (1.54 million). CBC's Murdoch Mysteries came in third (1.37 million), followed by CTV's MasterChef Canada (1.3 million), Global's Big Brother Canada (1 million viewers), CBC's Anne (898,000 viewers), Global's Private Eyes (894,200 viewers), CBC's Heartland (892,000 viewers) and History's Vikings (792,000 viewers).
Rogers Media, which airs Canadian originals such as Nirvanna: The Band: The Show on Viceland and The Bachelorette Canada on City did not submit its data to Playback at press time.