Bell Media announces (some) CTV premiere dates
Plus, two new originals coming to Gusto.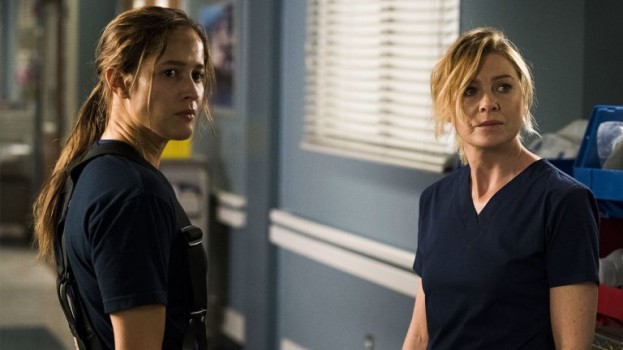 CTV has announced a number (but not all) of its midseason premiere dates, and added a trio of new comedies to CTV Two's schedule.
Deception, which follows a crime-solving magician who helps the government catch elusive criminals, will air on CTV Sundays at 10 p.m., beginning March 11. Also heading to the network are two new dramas from prolific showrunner Shonda Rhimes. Legal thriller For the People airs Tuesdays at 10 p.m. and premieres March 13 , while an as-yet-unnamed Grey's Anatomy spinoff (pictured) following firefighters debuts March 22 with a two-hour premiere. The drama will air Thursdays at 9 p.m. 

New series The Crossing, which follows refugees from a war-torn country who turn up in a small American fishing town, airs Mondays at 10 p.m. beginning April 2. Lastly, Quantico returns for its third season on April 26. It will air Thursdays at 10 p.m.
Heading to CTV Two's schedule are the comedies Splitting Up Together, Living Biblically and Alex Inc, though premiere dates have yet to be announced.
Bell Media will announce the premiere for ICF/eOne series The Detail, along with Masterchef Canada, Roseanne and The Voice in the coming weeks.
On specialty, Gusto is adding two new Canadian originals to its winter schedule.
Minor Renovations (5 x 30 mins) produced by Toronto's Highway Entertainment and United Artists Media Group, debuts Jan. 9 at 9:30 p.m. It was originally slated to premiere on Bravo, but Bell Media has moved the series to Gusto.
Minor Renovations follows host Eric Stromer as he mentors young designers (12 years old and under) who then lead the re-design of a homeowners' space. While known for its food programming, the new series bolsters Gusto's design-focused slate, which also includes The Search for Canada's Next Designer, Restoration Home and Escape to the Country. 
Meanwhile, Gusto has added yet another Spencer Watts-fronted series to its lineup. Watts, who already hosts the award-winning Fish the Dish, Watts on the Grill and the special Watts Up for the Holidays: Spencer's Ultimate Christmas Recipes, is back in the kitchen with Spencer's Big 30 (13 x 30 mins). Produced in-house by Gusto Worldwide Media in Ottawa, the show follows Watts as he prepares meals in 30 minutes for about $30. Watts' new show will premiere on Jan. 10 and air Wednesdays at 9:30 p.m. ET.