ICYMI: Changes at HuffPost's blogs, plus a TimePlay tournament
While HuffPost Canada won't eliminate the blog program, it will become pickier with the content.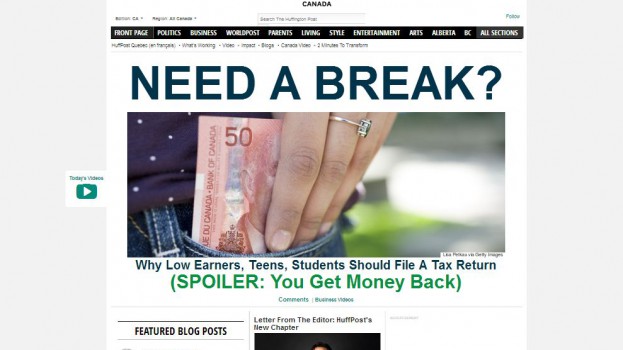 HuffPost ends blogs program in U.S., Canada's remains
HuffPost has ceased its blog contribution platform in the U.S., which previously allowed contributors to submit blogs to be edited and posted without editorial review.
Andree Lau, editor-in-chief of HuffPost Canada, posted a statement on Twitter clarifying that country editions of HuffPost operate autonomously, and therefore the blog program will remain in the country. However, Lau described HuffPost's new approach to blogging in Canada, saying it has "reshaped [its] focus" to now prioritize blogs containing first-person stories, personal perspectives and original opinion and analyses. HuffPost Canada will no longer publish blogs that include Q&As, interviews, travel reviews or reviews of restaurants, events, films, music and locations.
Dragon's Den hits the road
With CBC's Dragon's Den returning for another new season in 2018, the show is set to embark on a tour across Canada. Beginning in Toronto Feb. 10, producers of the show will travel to 26 cities including Kingston, Ottawa, Vancouver, Calgary, Halifax and others, with two separate dates in Toronto and Montreal. Auditions are open to entrepreneurs of all ages, with a five-minute pitch time.
Cineplex pilots TimePlay tournament concept
Three years after Cineplex partnered with the Toronto-based ad-supported multiplayer interactive experience company TimePlay to offer in-theatre trivia, the two will offer their first full-scale gaming tournament featuring $5,000 in cash prizes including $2,500 for the first-place winner. Launching Jan. 26 and running to Feb. 22, the tournament concept will pilot at 14 Cineplex theatres across the GTA. The tournaments will take place 15 minutes before movies begin. Players' scores accumulate during the program, and the top-20 participants will compete in a larger final event in March at Toronto's Scotiabank theatre. During the tournament, TimePlay will introduce new trivia verticals beyond movies and entertainment, including sports and music. This expansion comes following an $8 million financing round in August. As of August, 4.7 million people (primarily Canadians) have downloaded TimePlay.