Sunwing stays on top: Media Monitors
Meanwhile, Bell Media's CTV maintained its streak as the top buyer in Montreal.
Sunwing Vacations has remained the top radio buyer in the Toronto market as its winter vacation campaign blitz continues, according to the Media Monitors charts. Sunwing bought the most radio advertising for the week from Jan. 15 to 21.
That was followed by a new entrant to the charts, Monster Auto Group.
OLG made a leap to #3 from #9, while Rogers and BMW filled out the rest of the top-five. Also new to the charts was Scotiabank (#10).
Although Sunwing remained the top individual buyer, travel services were no longer the largest category buyer. Car and truck dealer associations as a whole purchased 2,782 spots (up from 1,936), making it the top buying category.
In Montreal, CTV held its strong lead, nearly tripling the play count of the next-highest buyer. The second-place spot went to new entrant Shopper's Drug Mart, followed closely by Bride & Groom Canada (up from #3).
Montreal's top-five was rounded out by Corbeil Appliances and CraveTV, both of which held their spots for the second week in a row. But new to the charts in the #10 spot was upscale "adult playground" Salon de l'Amour et de la Séduction.
Bell Media's big CTV buy helped make television and cable the top-buying category in Montreal.
Toronto, by advertiser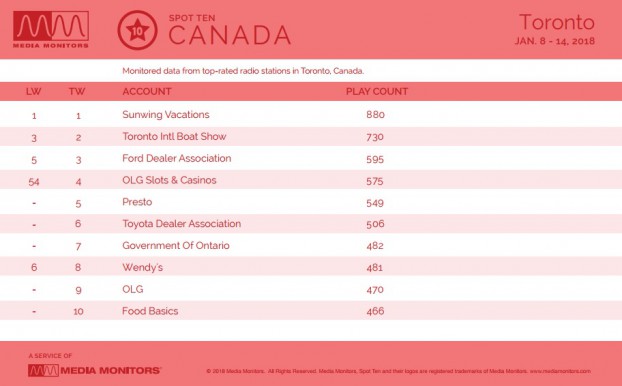 Toronto, by category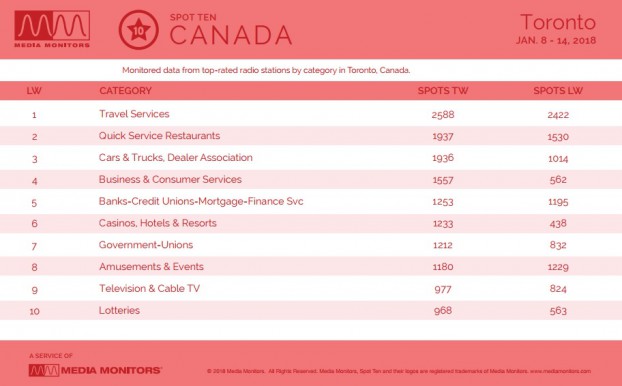 Montreal, by advertiser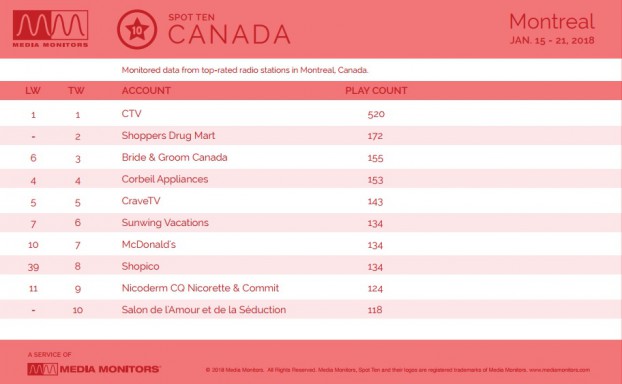 Montreal, by category