Branded Cities expands its mall presence
The company has set up 15 new digital directories in the Eaton Centre to carry photo and video advertisements.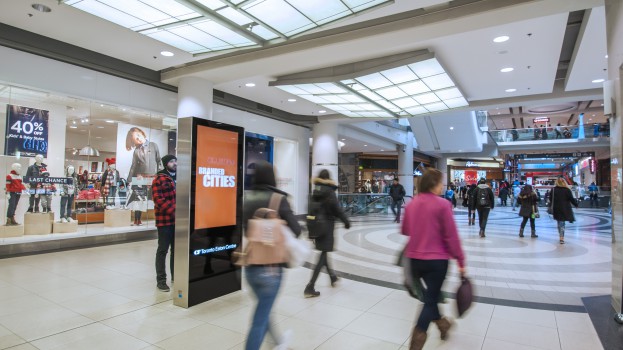 Out-of-home company Branded Cities has increased its mall footprint through its partnership with Cadillac Fairview.
The company is launching 15 new digital directories in the Eaton Centre. The units will boast 55-inch screens, which contain the mall directory on one side an an advertisement on the other. Advertisements are sold in 10-second spots (photo or video), running on a two-minute loop.
Adam Butterworth, president of Branded Cities Canada, told MiC the directories are part of a longer-term strategy to create more in-mall placements. "We're currently in the process of rolling them out and will reach the rest of CF's major malls this year," he said, noting that Branded Cities has already set up directory faces at Sherway Gardens in Etobicoke, Pacific Mall in Vancouver and the Richmond Centre in Richmond, B.C.
The Eaton Centre was an important destination, he added, because of its high traffic (according to the Retail Council of Canada, it is the country's busiest shopping mall with 50 million visitors annually).
Digital faces have also been a major part of Branded Cities' expansion plans, as Butterworth told MiC shortly after the company announced a new partnership with Signpatico in Western Canada. "Of the various pillars we're looking to expand on, digital is a big one."