Social leads the way for the COC's PyeongChang campaign
Experiential will also play a major part at the brand-heavy Olympic House.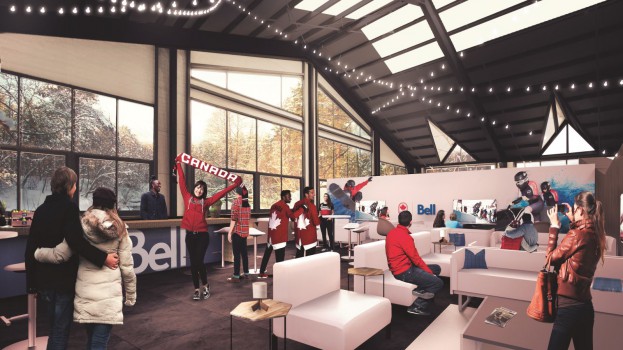 With the 2018 PyeongChang Winter Olympic Games now one week away, the Canadian Olympic Committee (COC) has kicked off its promotional campaign for Team Canada in earnest. It's an effort driven largely by social and digital content with a big experiential play at the Games themselves.
Derek Kent, the committee's CMO, said digital plays a vital role in getting the organization's message out. "We've been able to carve out a space where every piece of content engages fans," he said. "[For] every team announcement, every update to our countdown, there was a piece of content created specifically for social channels." For example, the COC has posted snippet videos of interviews with numerous team members (such as figure skater Ivanie Blondin) when it was announced that they would be added to the competing roster.
The overall brand platform, called "Be Olympic," features creative centered around the idea that Olympic values – respect, friendship and resiliency – are also Canadian values, said Kent. A number of videos spots, including three mini-documentaries, are rolling out across social to highlight those values among athletes such as snowboarder Mark McMorris and speed-skater Denny Morrison.
The videos will mostly be boosted across social media and appear in different iterations and lengths. While 10-second teasers began rolling out as early as Nov. 1 (to mark 100 days to the start of the Olympics), 15- and 30-second versions are on the way.
Additional content, including interviews with Olympians and high-end photography of the athletes, will appear in social channels such as Facebook.
COC worked with media buying agency OMD to plan the campaign. (There is a TV component as well, but TV spots were donated as the COC is a non-profit organization.) North Strategic handled PR for the COC.
The organization will also again activate with sponsors at the Canadian Olympic House in PyeongChang (a concept rendering is pictured above), which will open immediately following the Games' opening ceremony. The 12,000 square-foot enclosure will serve as a gathering place not only for Canadian athletes, their families and friends, but for the first time fans who have travelled to South Korea will be welcome inside.
The installation will host brand sponsors including Canadian Tire (which will bring back its interactive Red Door activation), Air Canada (which will sponsor the patio and provide complementary poutine for fans), Bell (sponsoring the Friends and Family lounge and provide wi-fi and charging stations), and Petro Canada (which will sponsor a cafe).
Other brand partners for the house include: SAS Analytics, RBC, Toyota, Mondelez, Smith School of Business at Queen's University, Samsung, Molson Coors and official team outfitter Hudson's Bay.
Sid Lee conceived the overall creative strategy for the campaign, and Sid Lee Design oversaw the Olympic House design.