Shonda's new show finally named on CTV winter schedule
Reality hit The Voice will also return to the network.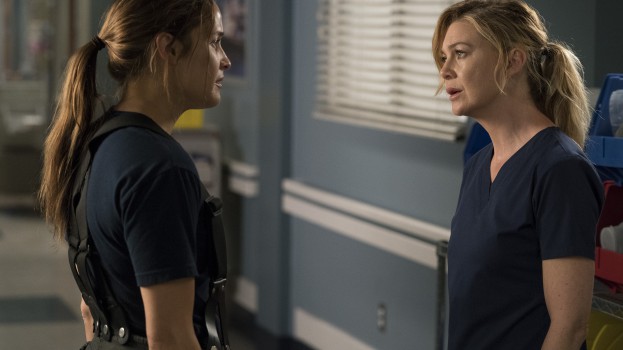 Bell Media has released the final details of CTV's midseason schedule, including more details on one of its most anticipated shows.
The new Shonda Rhimes firefighter drama (known until now as just Grey's Anatomy Spinoff) is officially called Station 19. It will have a two hour premiere on March 22. featuring a guest appearance from Ellen Pompeo, reprising her role as chief of general surgery Meredith Grey from the original medical show that spawned the franchise.
The one-hour drama will air Thursdays at 9 p.m. Beginning March 29, The Big Bang Theory and Young Sheldon will move to 8 p.m. and 8:30 p.m. respectively to make room for Station 19 (neither will air new episodes on March 22 due to the U.S. March Madness broadcast).
Station 19 (pictured) was named as one of Media Experts' expected hits for mid-season TV, with television systems director Carol Cummings citing the hit-making power of Shonda Rhimes as a major factor in its potential success. "It's just different enough," Cummings told MiC in an earlier interview, stating that networks needed to deviate more from standard formulas.
CTV has also confirmed that the popular reality show The Voice will return to air Mondays at 8 p.m. starting Feb. 26. New to The Voice this year is a three-time Grammy-winner who is no stranger to reality shows, Kelly Clarkson. Returning as celebrity judges will be Adam Levine, Blake Shelton and Alicia Keys.
Another title that received much hype at this season's upfronts was the revival of ABC's Roseanne. The comedy will debut with a one-hour premiere March 27 at 8 p.m. and then move to its regular Tuesday 7:30 p.m. timeslot the following week.
Medical drama Code Black will return for another season (Wednesdays at 8 p.m. beginning May 2) and summer hit American Ninja Warrior will bring a special, one-time international competition entitled USA Vs. The World starting March 11 with a three-hour special.
Coming to CTV Two is the comedy Living Biblically, which stars Jay R. Ferguson as a modern man at a crossroads in his life who decides to live strictly in accordance with the Bible. It debuts Feb. 26 and will air Mondays at 9:30 p.m. for its first two weeks before settling into the Tuesday 9 p.m. slot on March 13.
Also on CTV Two is Splitting Up Together, a story about a couple whose marriage is reigniting following their divorce. The series, which premieres March 27 and airs Tuesday at 9:30, stars Scream Queens' Oliver Hudson and The Office's Jenna Fischer. Debuting on CTV Two the following day is Alex Inc., the story of a journalist and family man (Scrubs' Zach Braff) who quits his job to start his own company. Alex Inc. airs Wednesdays at 8:30 p.m.
Released earlier in the week were the premiere dates for MasterChef Canada's fifth season and new drama The Detail.