Mazda's tap-to-buy billboard
A partnership with Pattison Onestop, J. Walter Thompson and Excelerator Media adds a touch of tech to an artful OOH installation.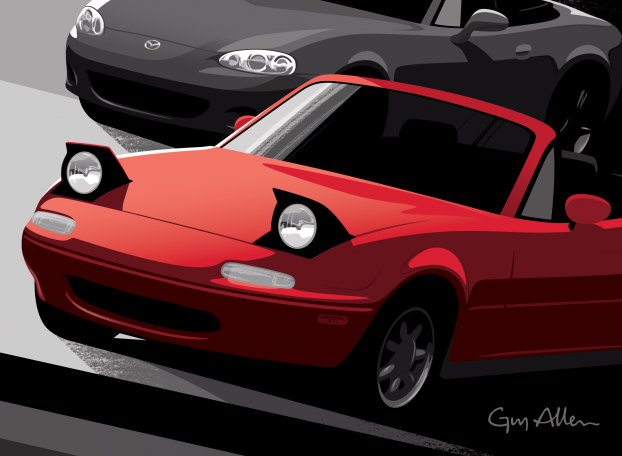 Mazda has debuted a billboard with built-in payment tech and will use the OOH installation as a sales point for some swag that it hopes will entice brand fans.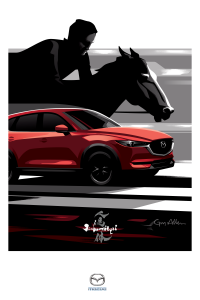 To help celebrate the automaker's 50th anniversary in Canada ahead of the Canadian International AutoShow, Mazda and agency partners J. Walter Thompson, Excelerator Media and Pattison OneStop launched the digital billboard with tap-to-pay capabilities.
Passersby can purchase one of the posters designed by automotive artist Guy Allen that feature either iconic Mazda cars or their brand attributes. The first poster illustrated "Jinba Ittai," the concept of "oneness of horse and rider," which the automaker holds as an engineering philosophy (pictured right). Other posters feature the MX-5 Miata, the 1967 Cosmo and the 1991 Le Mans.
Each limited-edition poster is $5, with proceeds going to a yet-to-be-determined charity. Mazda fans who purchase one will receive a receipt with a code to enter into a dedicated website, which then arranges shipping information.
"Mazda has such a rich, yet often overlooked, history in Canada and we felt it was important to share that history in a way that feels less like advertising," said Ari Elkouby, VP and CD at J. Walter Thompson Canada, in a release. "The prints allow us to tell Mazda's incredible brand story in a way that feels more like art, which better encapsulates the feeling of Mazda's clubhouse philosophy."
Last year, Mazda used technology in a slightly less commercial way with its Autoshow-adjacent billboards to track the number of people who turned to look at its MX-5 digital board.
The digital board is installed in the Royal Bank Plaza in Toronto's financial district.