Rogers stays on top in Toronto: Media Monitors
Meanwhile, Casino Montreal was the top buyer in Montreal.
For the third straight week, telco Rogers has remained the top radio ad buyer in the Toronto market. According to the Media Monitors charts from the week of Feb. 12 to 18, Rogers purchased 886 radio ads in the city.
It was followed closely by BMO, which shot up from #6 with an ad buy of 813. It was tied for the second-most ads purchased with OLG, which went up from #13 the previous week.
Rounding out the top-five were the Canadian International Auto Show (up from #9) and Sunwing, which was new to the charts. Also new to the city's top-10 were the Mazda Dealers Association (#6), outdoor retailer Sail (#8) and Rogers Home Internet and Phone (#10).
For Toronto's top buying categories, car and truck dealer associations purchased more than three times their last play count to come out as the top category buyer with 4,113 spots.
In Montreal, there was a new buyer on top: Casino Montréal entered the charts with a play count of 288. Educ'alcool fell to #2 from #1 the previous week, with 268 ads purchased.
Tim Hortons made a big jump in the market to #3 from #27, while HBO Canada rose to #4 from #6. Rounding out the top-five was Belairdirect, which fell from #2 the previous week.
New to the city's top-10 were Shoppers Drug Mart (#8) and Honda Civic (#10).
Car and truck dealer associations were also the top buying category in Montreal, with 590 spots purchased, knocking restaurants and nightclubs out of the top spot.
Toronto, by advertiser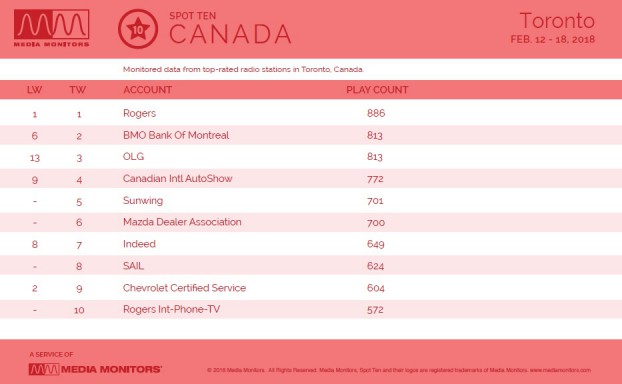 Toronto, by category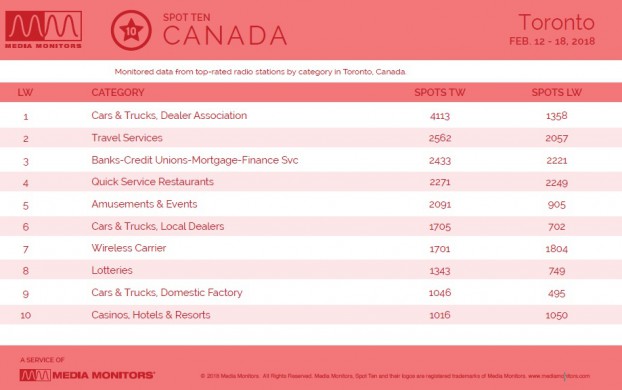 Montreal, by advertiser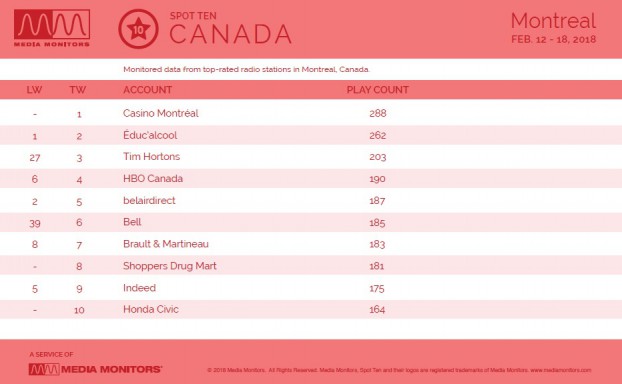 Montreal, by category