The Good Doctor makes good: Numeris
The drama managed to garner a higher national AMA than Saturday and Sunday's Olympic broadcasts.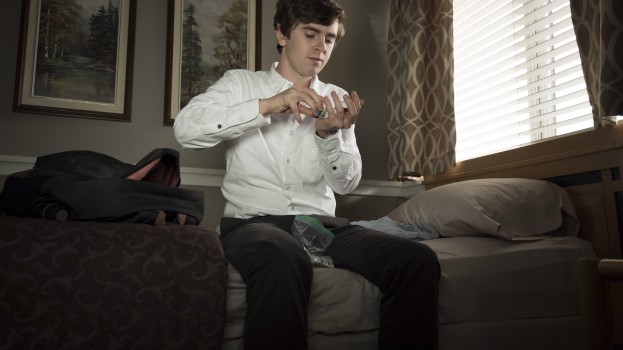 With the Olympic broadcast schedule causing Canada's main broadcast networks to make some changes, the Numeris rankings of the country's top programs shifted as well.
On top of the charts for the week of Feb. 5 to 11 was CTV's medical drama The Good Doctor, with 2.82 million viewers. With Thursday night powerhouses The Big Bang Theory and Young Sheldon not airing any new episodes, The Good Doctor slid comfortably into the top spot of all single-night programs, with a significant lead over second-place finisher NCIS (2.05 million viewers).

Because the Olympics are programmed as multi-day programming, the PyeongChang 2018 Primetime broadcast is not included in MiC's top-five, which tracks only single-night programs. However, the average minute audience for the Saturday and Sunday combine broadcasts of the Olympics (2.34 million) did not exceed that of The Good Doctor.
Following NCIS was Bull, which aired directly after NCIS on Global. The drama pulled in just under two million. Rounding out the top-five were CTV drama This is Us and Global's NCIS: New Orleans.
Olympic broadcasts still dominated many of the markets; however, of all single-night programs, The Good Doctor had a stronghold on most of the major Anglophone cities. A notable exception was Edmonton, which rallied around the finale for Star Trek: Discovery on Space.
Canada
1. The Good Doctor on CTV Monday at 10:01 p.m.: 2.82 million viewers
2. NCIS on Global Tuesday at 8 p.m.: 2.05 million viewers
3. Bull on Global Tuesday at 9 p.m.: 1.97 million viewers
4. This is Us on CTV Tuesday at 9 p.m.: 1.71 million viewers
5. NCIS: New Orleans on Global Tuesday at 10 p.m.: 1.59 million viewers
Montreal (Anglophone)
1. The Good Doctor on CTV Monday at 10:01 p.m.: 103,000 viewers
2. This is Us on CTV Tuesday at 9 p.m.: 95,000 viewers
3. Grey's Anatomy on CTV Thursday at 7 p.m.: 66,000 viewers
4. Lucifer on CTV Monday at 8 p.m.: 64,000 viewers
5. Ellen's Game of Games on CTV Tuesday at 8 p.m.: 63,000 viewers
Quebec (Francophone)
1. La Voix on TVA Sunday at 7 p.m.: 2.11 million viewers
2. Unité 9 on SRC Tuesday at 8 p.m.: 1.56 million viewers
3. Fugueuse on TVA Monday at 9 p.m.: 1.47 million viewers
4. L'échappée on TVA Monday at 8 p.m.: 1.25 million viewers
5. La vraie nature on TVA Sunday at 9:211 p.m.: 1.22 million viewers
Toronto/Hamilton
1. The Good Doctor on CTV Monday at 10:01 p.m.: 653,000 viewers
2. NCIS on Global Tuesday at 8 p.m.: 434,000 viewers
3. Bull on Global Tuesday at 9 p.m.: 419,000 viewers
4. NCIS: New Orleans on Global Tuesday at 10 p.m.: 405,000 viewers
5. Big Brother: Celebrity Edition on Global Wednesday at 8 p.m.: 392,000 viewers
Edmonton
1. Star Trek: Discovery on Space Sunday at 8 p.m.: 86,000 viewers
2. NCIS on Global Tuesday at 9 p.m.: 81,000 viewers
3. The Good Doctor on CTV Monday at 8:01 p.m.: 80,000 viewers
4. Bull on Global Tuesday at 10 p.m.: 70,000 viewers
5. NCIS: New Orleans on Global Tuesday at 8 p.m.: 69,000 viewers
Calgary
1. The Good Doctor on CTV Monday at 8:01 p.m.: 136,000 viewers
2. The Big Bang Theory on CTV Thursday at 9 p.m.: 109,000 viewers
3. Bull on Global Tuesday at 10 p.m.: 97,000 viewers
4. NCIS on Global Tuesday at 9 p.m.: 95,000 viewers
5. Hometown Hockey on Sportsnet Sunday at 5:12 p.m.: 88,000 viewers
Vancouver/Victoria
1. The Good Doctor on CTV Monday at 10:01 p.m.: 197,000 viewers
2. Bull on Global Tuesday at 9 p.m.: 193,000 viewers
3. NCIS on Global Tuesday at 8 p.m.: 184,000 viewers
4. PyeongChang 2018 Opening Ceremony Encore on CBC Friday at 6 p.m.: 178,000 viewers
5. PyeongChang 2018 Late Primetime on CBC Friday at 9:10 p.m.: 174,000 viewers