Le Devoir, GCM partner for national sales
Groupe Capitales Médias aims to increase the publication's visibility among agencies and brands across Canada.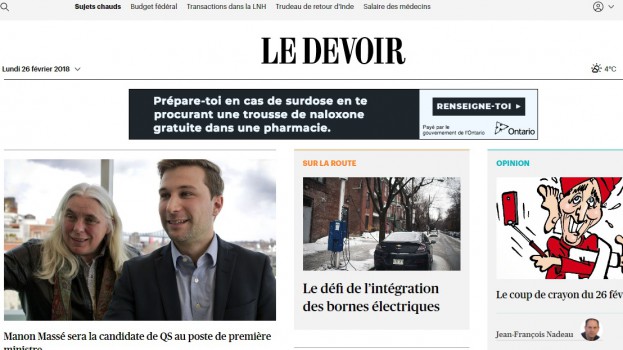 Independent French-language daily Le Devoir has partnered with media network Groupe Capitales Médias (GCM) in a deal intended to boost its presence with national advertisers.
GCM will represent Le Devoir's print products to national advertisers and agencies across Canada. GCM represents seven daily newspapers, all Francophone publications in predominantly French markets. They include Le Soleil (Quebec City), Le Nouvelliste (Trois-Rivières), La Tribune (Sherbrooke), Le Droit (Ottawa-Gatineau), Le Quotidien (Saguenay) and La Voix de l'Est (Granby).
Mark Drouin, VP of sales at Le Devoir, told MiC the partnership does not replace or make redundant any internal sales positions at the paper. He said the deal was forged to make Le Devoir "an easier buy for national advertisers… a one-stop shop." He said the intention is also to increase Le Devoir's overall presence on the national advertising landscape. As such, Le Devoir will now have sales representation in the Toronto market through GCM.
Although Le Devoir remains independent, Drouin said the alliance is strategic in the broader context of media consolidation.
According to the last Vividata rankings, Le Devoir remains a popular product; its total digital and print reach was recorded at 346,000 readers for an average weekday issue. While many publications across the Vividata rankings showed decreases, Le Devoir experienced an 8.7% increase in print readership and 5.2% increase on the digital side since the last report.