BMO rises to the top: Media Monitors
In Montreal, a number of new advertisers made their way to the charts.
The Bank of Montreal climbed one spot to knock reigning top buyer Rogers off its perch atop the Media Monitors charts.
The financial institution became the most prolific radio ad buyer in Toronto for the week of Feb. 19 to 25, according to Media Monitors. It purchased 1,113 spots and rose from #2 on the previous week's charts.
Rogers now holds the #2 spot, while the telco's internet, phone and TV services came in as the #3 buyer (up from #10). Rounding out the top five were the Hudson's Bay Company at #4 (up from #53) and classifieds job site Indeed (up from #7).
Once again, car and truck dealer associations were the largest buying category in Toronto.
In Montreal, Tim Hortons climbed two spots to take the top. CTV, which had been on top for more than a month before falling to #62, rose up to #2, while Educ'alcool fell one spot to #3.
The top-five was rounded out by new entrants to the charts – Re/Max and Virgin Mobile. Also new to the charts were PharmaPrix (#6) and Mazda (#7).
After several weeks of restaurants and nightclubs as the top category buyer, Asian factory cars and trucks has taken over by purchasing 586 spots – nearly 200 more than the last week.
Toronto, by advertiser
Toronto, by category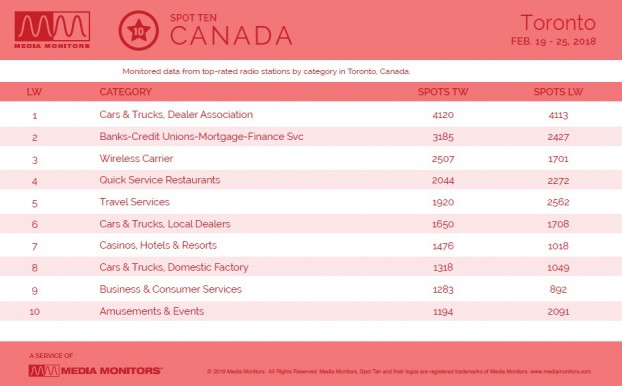 Montreal, by advertiser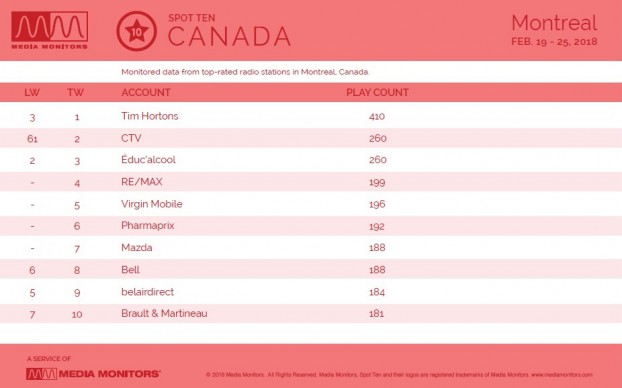 Montreal, by category