CBC launches The Succulent Six on its digital platforms
The program's champions of body positivity show the pubcaster is opening up to factual programming online.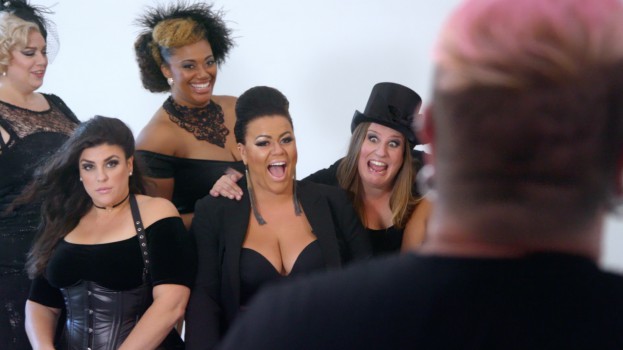 Today marks the digital launch of CBC's The Succulent Six, an online reality series featuring plus-sized models championing body positivity.
Shot in Toronto, the show follows a group of five close friends as they battle against size bias. During each episode, the group invites a sixth person to join their cause. Its first six 10-minute episodes appear on CBC's digital platforms, including the CBC TV app and at CBC.ca/watch.
CBC has been prioritizing its online audiences more this season. When discussing its mid-season programming with MiC, Sally Catto general manager, programming at CBC, said online audiences are not just a nice add-on to traditional broadcast audiences. The broadcaster has a renewed focus on its digital programs to capture audiences across the spectrum.
The show comes from General Purpose Entertainment (GPE), the company behind Post My Party (Makeful), Undercover High (YTV) and Holmes on Homes (HGTV Canada). While the digital commissions coming from CBC have seemingly leaned more toward scripted programming over the past year (including greenlights for How To Buy a Baby, Terrific Women and But I'm Chris Jericho),  GPE president Scott Clark McNeil said that, in a slow commissioning climate for factual, the public broadcaster is proving to be a valuable door to knock on for unscripted producers in Canada.
"[CBC] has really quickly rearranged itself to embrace this type of digital content, so we've had a lot more success [with them] than with a lot of the others we've pitched," said McNeil.
CBC has doubled down on its digital offerings over the past two years, commissioning nine new series at its 2016 Upfront and announcing 15 new and returning digital series at its 2017 Upfront. In December, the pubcaster also launched an updated OTT service that includes live streaming of its 14 regional channels, on-demand viewing and exclusive digital content.
Among the other factual series CBC commissioned for 2017/2018 were The Artists: From Pong to Pop and the Dawn of the Video Game Era (10 x 8 minutes), Tom Green's Snow Jam (8 x 5-10 minutes) and Ten X Ten: Ten Portraits of Queers in the Arts (10 x 3 minutes).
This story originally appeared in PlaybackOnline.ca