Digital tax credit and cost reductions help Torstar in Q4
Advertising revenues were still soft across most segments.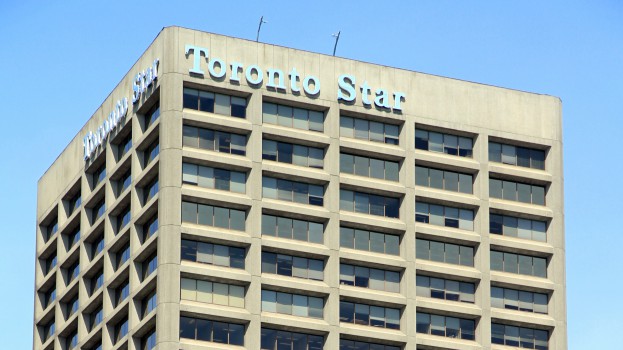 John Boynton said "all things considered," it was a pleasing quarter for Torstar.
The media company's president and CEO told listeners on a conference call that the corporation's final quarter of 2017 left the company "well-positioned to execute and invest in future growth plans," despite declining revenues in many aspects of the business.
Operating revenue for the quarter came in at $189.5 million, down 9.2% year-over-year. Net income from continuing operations was $7.8 million, up from $0.7 million. This improvement was mostly credited to reductions in costs and a $13.4 million digital media tax credit.
Boynton said the highly publicized publication swap between Torstar and Postmedia (which saw no cash change hands) will likely result in improvements of between $5 million and $7 million in 2018 earnings (which will include earnings from the four daily community papers acquired from Postmedia that were not shut down).
Torstar changed its various reporting segments in Q4. It previously reported finances for Star Media Group (the Toronto Star and its related digital properties), Metroland Media Group (the Waterloo Region Record, the Hamilton Spectator, the various community papers and several online flyer properties) and digital ventures.
While the digital ventures segment remains unchanged, the remaining properties have been restructured to the "daily brands" segment and the "community brands" segment. The new reporting units mostly mirror the previous ones, with the major difference being the Record and the Spectator moving to the same segment as the Star.
Within the digital ventures segment is Torstar's investment in web publisher VerticalScope. It has continued to see increases in revenue, which EVP and CFO Lorenzo DiMarchi said is "expected to assist higher organic growth and acquisition in the future."
Print advertising revenues from both local and national advertisers were down across Torstar's various media brands.
In the daily brands, revenue was $86.1 million, down 10% from the same brands year-over-year. In print, national advertising revenue saw the biggest decline (30%). Subscription revenues were flat.
Boynton added that when discounting the revenue from Star Touch, which was discontinued last summer, digital revenue in the dailies segment was up 14% year-over-year.
Across its community brands, local ad revenue fell 9.8% versus the year prior, while national revenue was down 14% for the same properties (although president of community brands and operations Ian Oliver stated that national revenue only makes up a small portion of this segment's revenue). Oliver said advertising declines were largely due to "financial challenges experienced by certain retail clients."
Recently, Torstar made a decision to discontinue most of the internships at the Toronto Star, which will result in approximately $500,000 in savings over the next year (the savings from that decision did not impact Q4, which ended Dec. 31). DiMarchi also said on the call that the company would continue to "identify additional cost savings," although he did not specify where those savings would come from.