Eco Cab moves past the pedal with new branded vehicles
The Toronto company moves beyond pedicabs with experiential, branded low-speed electric vehicles.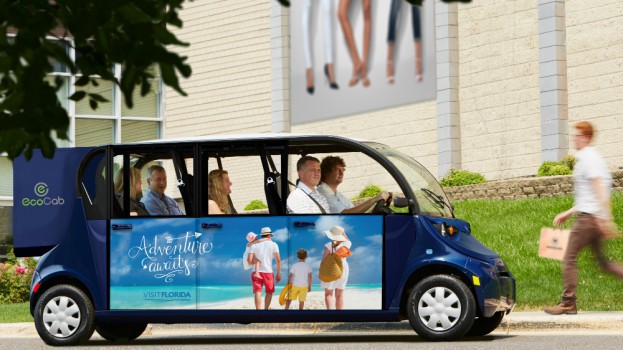 Eco Cab is expanding its fleet of free low-speed taxis in Toronto's downtown core, taking advantage of new Ontario legislation.
The company is acquiring a number of custom-made electric vehicles to offer branded, experiential ride shares around the city. It currently operates a fleet of motor-assisted pedicabs that bare the branding of sponsor companies who foot the bill for the ride.
The electric vehicle additions were made possible thanks to a new Ontario pilot program that permits low-speed vehicles on Ontario roads.
Company president William Kozma says he hopes to start with six electric vehicles launching in May, but it will depend on when sponsors want to start their campaigns, and how many sign up for the service.
Vehicle drivers will be trained in sponsor brand programming, delivering a branded experience while they offer free rides around the city.
The new fleet already has one yet-unnamed national advertiser signed on to put its branding on the six-seater vehicles. Eco Cab markets its ability to provide up to 120,000 impressions per day when its vehicles are in service (the company does not put vehicles on the road without an affiliated sponsorship, relying on its free-ride model to build affinity with consumers).
Eco Cabs's existing pedicab fleet grew from six to 24 vehicles over the company's 10 years in business. But the three-wheel bikes have limited space for baggage – a problem Kozma said the new vehicles will solve.