Rogers goes back to the top: Media Monitors
In Montreal, Tim Horton's continued to dominate the radio buying charts.
After slipping for one week, telco Rogers regained its position as the top buyer of radio advertising in Toronto for the week of Feb. 26 to March 4, according to Media Monitors.
It switched spots with this week's second-place finisher, BMO. Rogers purchased 992 ads to BMO's 979, making the two incredibly close in play count.
Rounding out the top five in Toronto were McDonald's (up from #28), Telus (up from #22) and Fido Solutions (up from #13). New to the list were CBC (#8) and the Ford Dealer Association (#10).
Banks, credit unions and mortgage brokers knocked auto dealerships out of of the top spot for the most prevalent category buyer, with 2,620 spots.
In Montreal, Tim Horton's stayed on top with a play count of 514, while CTV also held the #2 spot for the second week in a row. Virgin Mobile moved up two spots to #3, while Re/Max held strong at #4 and Belairdirect rose to #5 from #9.
New to the city's top 10 were Rona (#9) and TSN (#10).
The restaurant and nightclub category continued to dominate the Montreal radio market, increasing its total play count (739 up from 530).
Toronto, by brand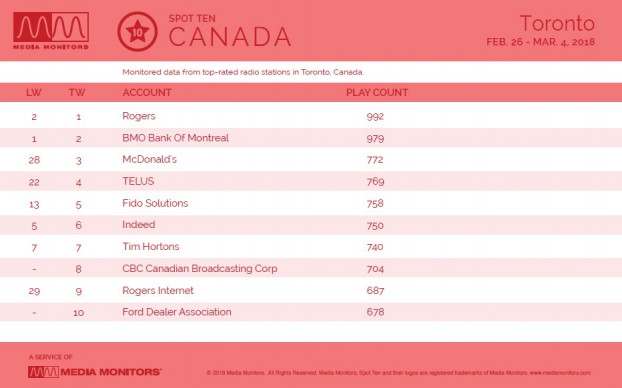 Toronto, by category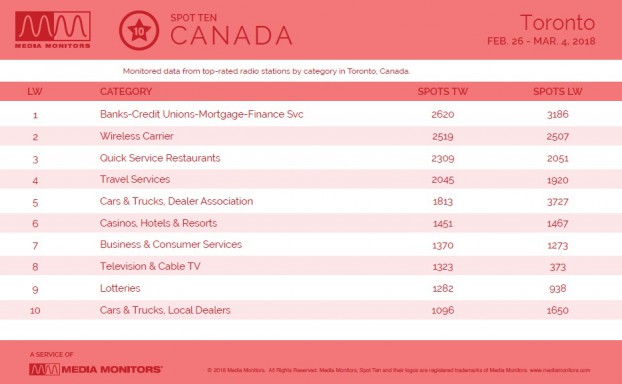 Montreal, by brand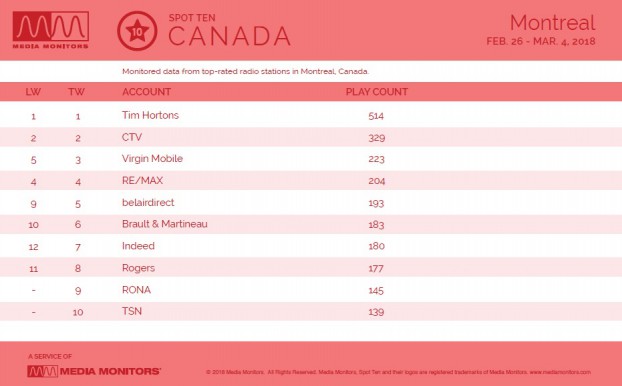 Montreal, by category