More Paralympic content than ever to be broadcast
Sponsors of the broadcasts include Bell, CIBC, Canadian Tire and more.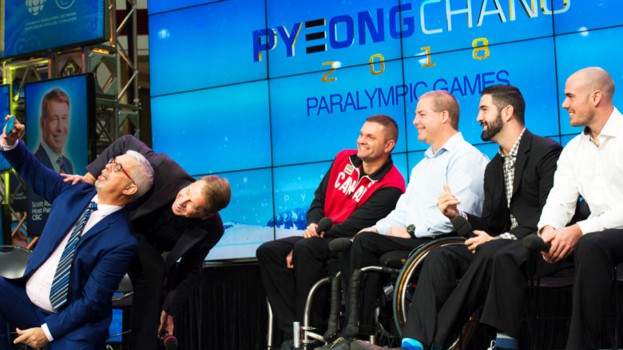 For the first time in Paralympic history, every minute of this year's Games will be available for viewing in Canada.
The 2018 PyeongChang Paralympic Winter Games will kick off Friday, March 9 and will be broadcast on television and digital platforms, as well as on Twitter and Facebook.
Presenting sponsors of the broadcast are Bell, CIBC, Canadian Tire, Sportchek, Petro-Canada and Toyota.
On television, a total of 125 hours of content will air throughout the 10 days. CBC and Radio-Canada will provide the bulk of the coverage, including live footage of the opening and closing ceremonies in both English and French. CBC will also provide coverage on Saturday mornings from 6 to 10 a.m. ET and Sunday mornings from 6 to 9:30 a.m. ET. Weekday coverage will occur from 4 to 6 p.m. in Canadians' local time zones, as well as on weekend afternoon. A daily highlight show will air on Radio-Canada for French-language viewers from 3 to 5 p.m. on weekend afternoons and 11 p.m. at 11 p.m.
Additional TV content will air on Sportsnet One, with re-broadcasts of the competitions on a daily basis. Times will vary depending on the day. Specialty accessibility channel AMI will air daily highlights and re-broadcast CBC coverage with descriptive video.
Every event will be streamed live and on-demand on Facebook Live, Twitter Live, Paralympic.ca and the websites for both CBC Sports and Radio Canada. Both English and French commentary will be available for these streams. CBC and Twitter Canada launched a global-first partnership this year to allow live streaming of Olympic content on the social platform.
As part the Games' social broadcast and promotional strategy, social media users are being encouraged to sign up to become a "broadcaster" of the Paralympic Games. On the Paralympic site GreatnessIsRare.ca, users can select events they wish to share, link to their social media accounts and they will automatically begin broadcasting the live stream when the event begins.
The 2014 Paralympic Winter Games had a reach of 5.3 million people in its first three days, according to the Canadian Paralympic Committee (CBC did not officially release audience data for the event). That represented approximately 15% of the Canadian population and was up from the 1.2 million viewers reported for the London Summer Paralympics in 2012.