MKTG's leaders look to sponsorship beyond sports
MKTG new president Matthew Logue and CEO Brian Cooper see a broader, more complex arena of new players and higher stakes.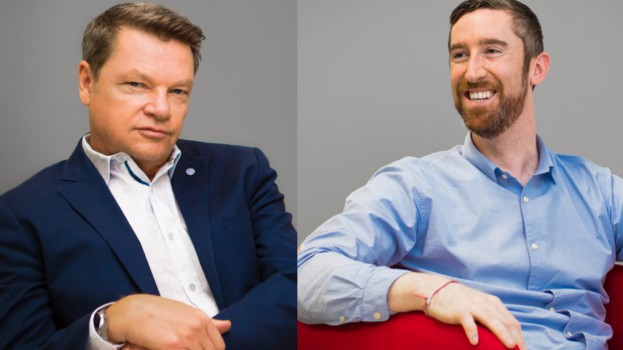 Brian Cooper says the sponsorship industry is changing rapidly, getting more crowded, more competitive and more data-driven than ever.
"Years ago, this was an industry that didn't have the rigour or discipline that it has today," said the CEO of MKTG Canada. "Sponsorship was often a CEO's legacy or passion – he likes golf, he assumes his clients like golf. There's so many more KPIs tied to them now."
MKTG was never a pure sports agency, even in its former life as S&E Sponsorship. But it did skew heavily toward sports in the early days. (Given Cooper's former life as an exec with MLSE and the Toronto Argonauts, this was perhaps inevitable.) But with these landscape changes in mind, Cooper has handed over the president's title to COO Matthew Logue so that the two can better conquer the sponsorship space.
The plan is for Logue and Cooper to focus on their respective specialties — Logue overseeing agency operations and future-proofing the business, and Cooper tackling its vision, steering the agency's business development and its voice within the industry.
That voice, Cooper said, is one that naturally has to be a whole lot louder because of competition alone. An agency can't simply coast on brokering good deals. "You have to have the share of mind, of voice and of wallet. You have to be able to spend more money. You have to be smarter. You have to look at emerging technologies that are enhancing your engagement with sponsorship."
And while there are more players in the sponsorship space (Cue Digital Media has added sponsorship offerings on an ad hoc basis, while firms like XMC's Sponsorship Canada have grown their profile over the last 10 years), Cooper said MKTG is also fighting for more diverse deals than ever.
"When you look at the categories that have come into the game, it's no longer just the beer, auto, alcohol, consumer electronics companies," he said. "It's everybody from accounting firms to Uber… Even the cannabis companies are coming around into the scene now."
New president Logue told MiC that sponsorship narratives are evolving far beyond sports. "Brands want to tell their true brand story," he said. "It goes beyond 'we're a supporter of your favourite team.'"
Sports are still undeniably the largest platform for brands in Canada, but Logue said he sees growing advertiser interest is causes and social activism.
Now MKTG is looking to push heavily into e-sports, a global industry expected to hit nearly $2 billion in value this year. 
"It's one of the most vibrant places for us and would allow us to lean heavily on digital in various platforms," Logue said.
But despite all that's new and shiny, both Logue and Cooper said sponsorship success still fundamentally depends on brands' genuine commitment. They cited their client Scotiabank as a model for success – for the past nine years, the financial institution has been heavily involved in pro and community hockey sponsorship, culminating in the recent acquisition of naming rights for the soon-to-be-former Air Canada Centre.
"From day one, we looked at what their competitive set was doing and looked at the resources they had, which was less than their competitive set," said Cooper. "The key was they stuck with it for eight or nine years, and it's lead to a real measurable breakthrough in hockey, a breakthrough in brand health. It's increased the will to use their product and unaided awareness of their brand."