Spotted! A bright new home show
The Green Ontario Fund capitalizes on the "tiny home" trend.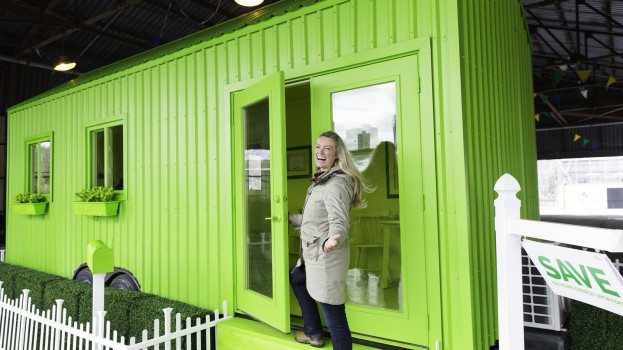 An impromptu "home show" popped up in Toronto last weekend with a "tiny home" centerpiece that was green in more ways than one.
The home show at the Evergreen Brickworks was actually an activation by the Green Ontario Fund, a not-for-profit provincial agency that used the bright green house as a way to direct people to their website, GreenON.ca. It hoped to drive discovery of the ways people could reduce their carbon footprint and, in turn, receive tax rebates.
The three-day activation took marketgoers through the lime-green compact dwelling (no, that's not a filter) to learn about savings on electronics, water, heating and more. The "tiny home" movement has become a highly popular and "Instagrammable" trend, with lifestyle influencers like Whitney Leigh Morris and Tiny House Basics amassing tens and hundreds of thousands of followers for their minimalist homes.
The activation was promoted through social influencers such as design guru Kate Campbell and DIY duo the Sorry Girls.
The activation is part of a wider campaign by the Green Ontario Fund (with media by PHD and creative by Bensimon Byrne) to encourage use of its programs. The campaign consists of 30-second TV, digital and social spots running for a total of 16 weeks.
Next week, the tiny home will take up residence at Toronto's National Home Show.