H&R Block doubles down on branded content
The tax company has partnered with Oath's Ryot Studio on a content play to drive conversion at lower cost.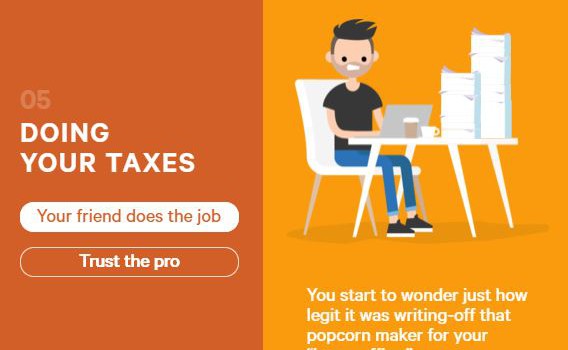 This story was updated March 14, 2018 at 2:40 p.m.
H&R Block has gone with a bigger content play this tax season, partnering with Oath's Ryot Studio in an effort to drive more traffic to its website.
The tax preparation company, which only advertises about 12 weeks out of the year, is favouring branded content over homepage takeovers and banner ads, saying the latter haven't been as effective at driving conversion in the past.
The content was developed by Ryot Studio and includes articles and two interactive  infographics, as well as a location-based element in a rich media ad unit to guide consumers towards local H&R Block service centres. The brand also continues to run some programmatic display ads through Oath.
Last year, H&R Block paid for branded content on properties including AOL and Huffington Post. But the buys cost premium dollar, having been purchased on an ad hoc basis, says Hilary Zaharko, VP marketing at H&R Block.
This year, its agency Sid Lee Media secured a deal with Oath to place content across the network's owned and operated properties at better value. The deal also enabled the brand to reach consumers in Quebec without needing to buy ads for that market separately.
"Getting as many eyeballs onto our website as possible has become our strategy," Zaharko says, adding that branded content has proven very effective at driving more traffic. That, along with recent improvements in retargeting practices, has led to great conversion rates.
The content targets students, new Canadians and small business owners, with the goal of driving awareness and education around the benefits of using professional tax services.
From a creative perspective, Ryot worked hand-in-hand with Sid Lee (also the brand's creative agency), which led the broader "Get What's Yours" campaign. The content's role was to enhance the campaign through an interactive, digital experience, says Mark Charles, director of Ryot Studio. H&R Block spent more than a combined $1 million on the ads and content, he says.
Correction: This story originally reported that H&R Block had been de-emphasizing homepage takeovers in favour of its brand content strategy. While the brand had for a time stopped doing takeovers, it has since taken up the practice again, doubling the total number of takeovers this year over last. Media In Canada regrets the error.