Postmedia, Torstar investigated for 'anti-competitive conduct'
A warrant was served at Postmedia's Toronto office Monday as its 41-newspaper deal goes under the microscope.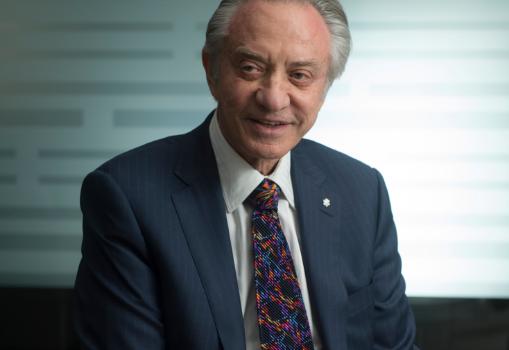 Pictured: Paul Godfrey, CEO and executive chairperson at Postmedia Network.
The Competition Bureau has confirmed it is investigating "alleged anti-competitive conduct" as part of its inquiry into a 41-newspaper acquisition deal between Postmedia Network, Torstar and Metroland.
The Bureau served a warrant at Postmedia Network's Toronto offices Monday and met with staff at Torstar as part of its review.
Commissioner of Competition John Pecman said in a statement that "the Competition Bureau is investigating alleged anti-competitive conduct contrary to the conspiracy provisions of the Competition Act. The Bureau is also examining this matter under the merger provisions of the Act.
"Investigators with the Bureau are currently gathering evidence to determine the facts relating to the alleged conspiracy. There is no conclusion of wrongdoing at this time and no charges have been laid."
Postmedia has issued a statement saying it was "strongly of the view that there has been no contravention of the Competition Act with respect to this matter and Postmedia is cooperating with the Competition Bureau in connection with their investigation."
A spokesperson for Torstar said that Bureau officials visited Torstar's Toronto offices "seeking more information about the transaction with Postmedia to purchase and sell a total of 41 publications and we are cooperating completely with them… Torstar will be voluntarily providing the bureau with additional company documents relating to the transaction."
The Postmedia/Torstar deal saw 41 local newspapers trade hands. Postmedia acquired titles including the Belleville News, West Carleton Review, Metro Ottawa and Metro Winnipeg, among others, and shuttered all except two: the Exeter Times-Advocate and Exeter Weekender.
Torstar, in return, acquired the still-operating St. Catharines Standard, Niagara Falls Review, Welland Tribune and Peterborough Examiner and shuttered an additional 11 publications.
Approximately 290 job positions were eliminated by the deal.
Neither company notified the Competition Bureau before the deal's announcement. Postmedia said its scope fell below the Bureau's $88-million transaction threshold to do so. However, it is within Pecman's authority to call for a review of any business transaction, regardless of its size.