Responsible Gambling hyper-targets with OOH
A new ad in a busy Ontario shopping mall is spreading an outreach message one shopper at a time.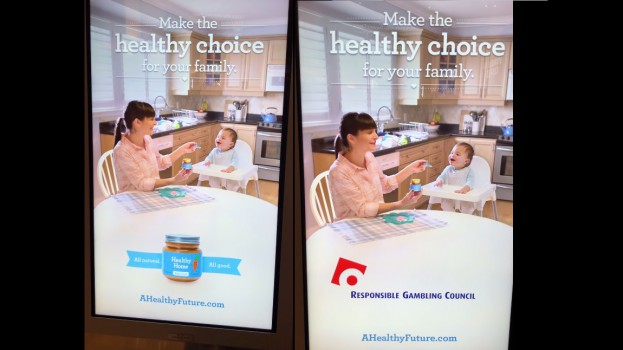 A new ad by the Responsible Gambling Council is hyper-targeting audiences through a media buy not traditionally associated with hyper-targeting: out-of-home.
A new digital OOH ad in the busy Vaughan Mills Shopping Centre looks, at first, like a pleasant ad for baby food – all the creative indicates that it is merely marketing a product entitled "Healthy Choice."
When some – but not all – shoppers get closer, however, the ad's message flips. The mother in the ad addresses solitary shoppers and talks about being alone because her husband is off gambling. The ad creative then changes to reveal the information for the Responsible Gambling Council.
(Other work in the campaign is appearing online as pre-roll video that takes a similar bait-and-switch approach.)
The sign technology, provided by Cineplex Digital Media, uses motion camera technology to track eye focus, dwell time and, most importantly, if the observer is alone or not (in order to address those who may be affected by gambling addiction confidentially). The ad was  designed to come to life after a shopper stood by the screen for several seconds. (To prevent the hidden creative from playing to children, it attempts to determine a viewer's age based on their height.)
The media buy was conducted by PHD, with creative by Lg2 and production by Makers Media.
The ad went live March 16 and will run for five weeks.
The goal, according to a rep for Cineplex, was to create an "intimate interaction" while still bringing broader awareness to the issue of gambling addiction.