Staples soars to the top: Media Monitors
But in Montreal, Bell Mobility made an even bigger leap to the top of the radio buying charts.
Staples dethroned Rogers Internet as the most prolific radio ad buyer in Toronto for the week of Mar. 12 to 18.
The latest Media Monitors charts showed the office supply store purchased 1,083 ads during the week, allowing it to rise up from the #18 spot it occupied the previous week.
Staples was followed by BMO, which also climbed up significantly (from #20). Rounding out the top-five were the Ford Dealers' Association at #3 (down from #2), Fido Solutions at #4 (down from #3) and Indeed at #5 (up from #7).
In Montreal, it was Bell Mobility that took the top, climbing all the way up from #99 the previous week and purchasing 342 spots. It was followed CTV, a consistently big buyer in the market. Rounding out the city's top-five were the Ford Dealers' Association holding steady at #3, Virgin Mobile at #4 (down from #1) and Re/Max at #5 (down from #4).
Toronto, by advertiser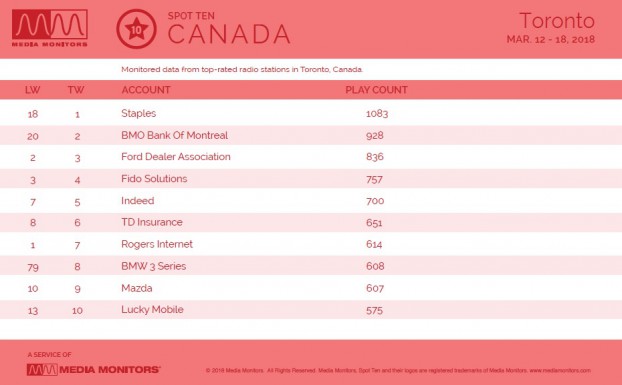 Toronto, by category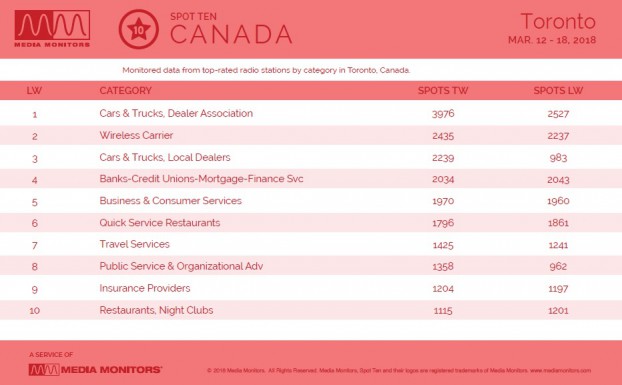 Montreal, by advertiser
Montreal, by category