#DeleteFacebook trends, advertisers wait
The first signs of user backlash to the Cambridge Analytica scandal emerged Tuesday, but so far Canadian brands aren't moving their ads.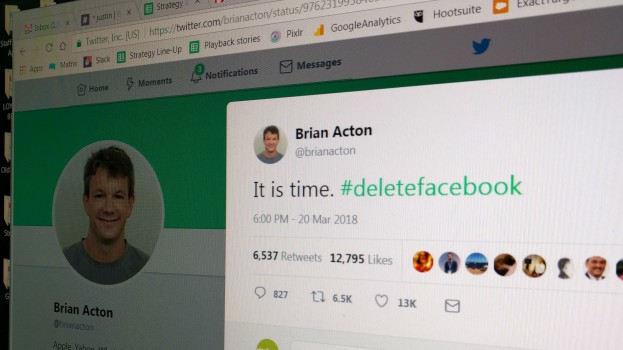 The hashtag #deletefacebook trended on Twitter Tuesday, marking the first signs of user revolt against a platform that has quickly come under attack for its role in an international data scandal. While no advertiser has yet to react publicly to the platform's woes, industry watchers have their eyes on what the company and its users will do next.
The trending topic surfaced yesterday, with notable Twitter accounts belonging to WhatsApp founder Brian Acton and actor Kumail Nanjiani (among others) advocating for users to disengage from the platform.
The trend is tied to media reports that Facebook user data was inappropriately obtained and used by U.K. firm Cambridge Analytica, which has been linked to Donald Trump's successful presidential bid and the U.K. Brexit vote. At issue is data obtained through a Facebook game designed to gather personal information from those who played it with their friends.
Reports say the data was inappropriately shared with Cambridge Analytica, which subsequently told Facebook it had been deleted. But whistleblowers are coming forward to say the firm still has much of that information. While the social giant says there was no data breach, personal data from 50 million accounts ended up in Cambridge Analytica's hands in violation of Facebook's policies.
A number of Canadian media agencies tell MiC they are not fielding calls from clients asking about the issue, but are monitoring the issue to advise them should that happen. Overall, advertisers in North America have remained mostly quiet about the scandal, with none publicly addressing the issue as of press time.
It is still too early to say whether #deletefacebook will lead to a significant reduction in the platform's active user base, which would negatively affect its value as a publisher. But the story is fast moving. Facebook has already seen backlash from investors, taking a sizeable dip in the markets and now facing a lawsuit. It has banned Cambridge Analytica and its parent company from using its service, and Cambridge CEO Alexander Nix has been suspended following the release of a video of him explaining his role in Trump's campaign.
In its most recently financial filings, Facebook reported 2.2 billion active monthly users around the world.
Canada's Privacy Commissioner Daniel Therrien launched an investigation Tuesday to determine whether Canadian user data was affected in any way.
"The allegations we've seen in media reports raise extremely important privacy questions," Therrien said in a statement. "The digital world, and social media in particular, have become entrenched in our daily lives and people want their rights to be respected."
"We are strongly committed to protecting people's information and will answer any questions the Office of the Privacy Commissioner has," said the company via a spokesperson.
Lawmakers in the U.K. and U.S. are also investigating.