Rogers Internet returns to the top: Media Monitors
Although the service provider purchased the most spots as a brand, auto dealer associations were the biggest buying category.
Rogers Internet has returned to the top spot as the biggest buyer of radio advertising in Toronto after sliding to #7 last week. That's according to the latest Media Monitors charts, which measured the period from Mar. 19 to 25.
Coming in second was BMO, holding that spot for the second week in a row. Last week's #1, Staples, fell to #3. The top-five was rounded out by the Ford Dealer Association (down from #3) and the Honda Dealer Association (up from #35). New to the Toronto charts were the CBC (#7) and eBay (#10).
Car and truck dealer associations was the category largest buyer in the city. A total of 4,759 ads by these brands were purchased throughout the week, up from 3,980.
Bell Mobility took the top spot in Montreal for the second week in a row. Bell also shot to #2, up from #43, and the Hyundai Dealer Association came into the list new at #3. Montreal's top-five was rounded out by CTV (down from #2) and the Ford Dealers Association (down from #3). New to Montreal's top-10 was Bud Light (#9).
Wireless carriers made up the largest buying category in Montreal, although fewer spots were purchased this week (902, down from 1.014).
Toronto, by advertiser
Toronto, by category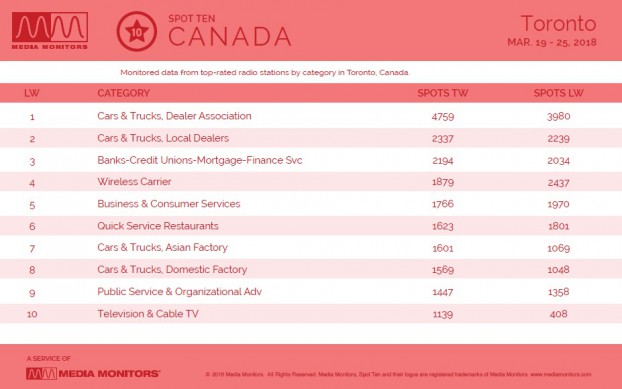 Montreal, by advertiser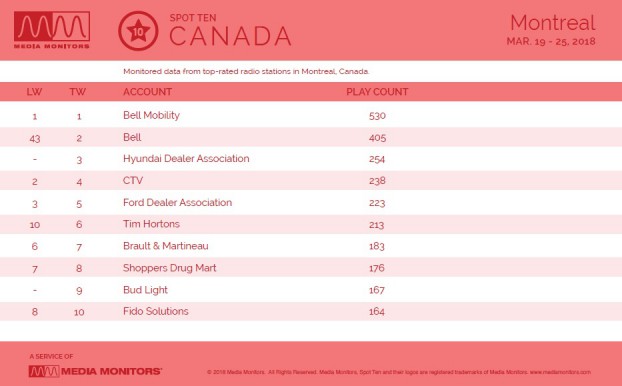 Montreal, by category