The Good Doctor takes the top: Numeris
The medical drama took in more than three million viewers.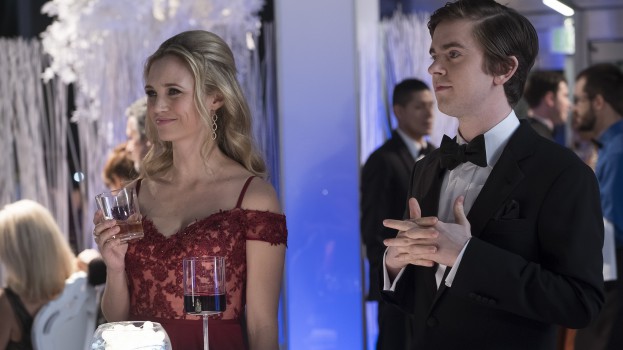 After taking a week off last week, CTV's The Good Doctor came back strong. The medical drama pulled in an AMA of nearly 3.16 million viewers for its March 12 broadcast, making it the highest-viewed single-night program for the week of March 12 to 18.
With both The Big Bang Theory and Young Sheldon taking a week off, the top-five was a little less predictable. NCIS, Survivor and Bull (all on Global) took the second, third and fourth spots respectively, while Grey's Anatomy rounded out the top-five. The season finale of This is Us barely missed the national top-five, although it snuck into the top five of Montreal and Toronto.
While The Good Doctor took the spot in every Anglophone market, some cities still showed unique preferences. CTV dominated the top-five in Montreal, with Law and Order: SVU, Deception and The Voice also scoring big. Dramas played big in Edmonton, with Instinct, Chicago P.D. and NCIS: Los Angeles all mingling among the top shows.

In Quebec, the top five remained almost entirely unchanged, the only exception being La vraie nature in the fifth spot, taking the place of L'heure bleue. 

Canada
1. The Good Doctor on CTV Monday at 10 p.m.: 3.16 million viewers
2. NCIS on Global Tuesday at 8 p.m.: 2.16 million viewers
3. Survivor on Global Wednesday at 8 p.m.: 2.04 million viewers
4. Bull on Global Tuesday at 9 p.m.: 1.97 million viewers
5. Grey's Anatomy on CTV Thursday at 8 p.m.: 1.7 million viewers
Montreal (Anglophone)
1. The Good Doctor on CTV Monday at 10 p.m.: 104,000 viewers
2. This is Us on CTV Tuesday at 9 p.m.: 84,000 viewers
3. Law and Order: SVU on CTV Wednesday at 9 p.m.: 78,000 viewers
4. Deception on CTV Sunday at 10 p.m.: 61,000 viewers
5. The Voice on CTV Monday at 8 p.m.: 57,000 viewers
Quebec (Francophone)
1. La voix on TVA Sunday at 7 p.m.: 2.06 million viewers
2. Fugueuse on TVA Monday at 9 p.m.: 1.66 million viewers
3. Unité 9  on SRC Tuesday at 8 p.m.: 1.52 million viewers
4. L'échappée on TVA Monday at 8 p.m.: 1.34 million viewers
5. La vraie nature on TVA Sunday at 9:15 p.m.: 1.3 million viewers
Toronto/Hamilton
1. The Good Doctor on CTV Monday at 10 p.m.: 681,000 viewers
2. Bull  on Global Tuesday at 9 p.m.: 591,000 viewers
3. NCIS on Global Tuesday at 8 p.m.: 541,000 viewers
4. Survivor on Global Wednesday at 8 p.m.: 462,000 viewers
5. This is Us on CTV Tuesday at 9 p.m.: 444,000 viewers
Edmonton
1. The Good Doctor on CTV Monday at 8 p.m.: 88,000 viewers
2. Instinct on Global Sunday at 9 p.m.: 77,000 viewers
T3. Chicago P.D. on Global Wednesday at 7 p.m.: 69,000 viewers
T3. NCIS: Los Angeles on Global Sunday at 10 p.m.: 69,000 viewers
5. Bull on Global Tuesday at 10 p.m.: 64,000 viewers
Calgary
1. The Good Doctor on CTV Monday at 8 p.m.: 140,000 viewers
2. Grey's Anatomy on CTV Tuesday at 9 p.m.: 89,000 viewers
3. NCIS on Global Tuesday at 9 p.m.: 86,000 viewers
4. Bull on Global Tuesday at 10 p.m.: 81,000 viewers
5. 9-1-1 on Global Wednesday at 10 p.m.: 75,000 viewers
Vancouver/Victoria
1. The Good Doctor on CTV Monday at 10 p.m.: 212,000 viewers
2. Survivor on Global Wednesday at 8 p.m.: 195,000 viewers
3. NCIS on Global Tuesday at 8 p.m.: 183,000 viewers
4. Global News at 6: Weekend Edition on Global Sunday at 5:59 p.m.: 173,000 viewers
5. Bull on Global Tuesday at 9 p.m.: 171,000 viewers