The media agencies that won big at Atomic
UM, OMD, Wavemaker, Media Experts and Mindshare take home trophies for innovation.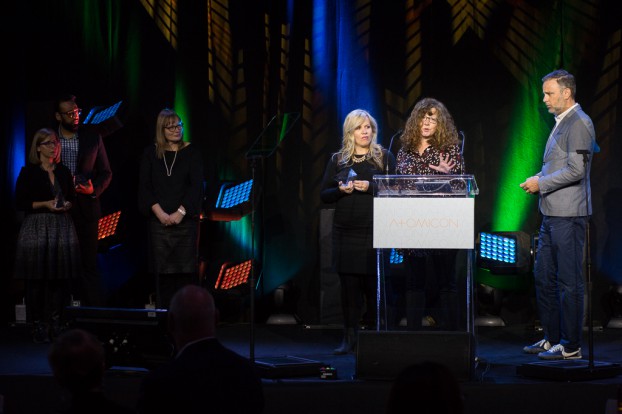 Above: SickKids' Lori Davison tears up during her acceptance speech after watching the "All In" spot by Cossette, which took home the Public Service Grand Prix
Among the brands and agencies using innovative technology to track eyes and sweat glands, a handful of Canada's media agencies walked away from last night's Atomic Awards with trophies in hand.
Wednesday's Atomic Awards gala revealed a barrage of intimate, hyper-targeted, and technologically innovative campaigns. The award-winning work stretched across themes from biometrics to branded content. MiC's sister publication Strategy developed the Atomic Awards (in consultation with a pan-industry advisory board) to identify groundbreaking ideas and programs across Canada's mediascape. The winners – chosen by a jury of digital, TV, agency, marketing and media execs – offer innovative examples of how to engage audiences with fresh ideas, on multiple screens and in new environments.
UM, in partnership with creative agency Anomaly, won gold in the Best Experiential Engagement category for Budweiser's "Goal-Synced Arena." OMD Vancouver took home a silver in Niche Targeting for its work with DDB Canada for Milk West's "Snack Time" campaign.
Bronze awards went to Wavemaker (which scored three bronze – one for Molson Canadian's "Virtual Front Row Seat," one for Kruger Products/Cashmere's "Now Streaming" and another for GoDaddy's "Itty Bitty Ballers"), Mindshare Canada (earning one for Kimberly Clarke/Cottonelle's "Stroke-able Billboard" and another for Unilever's "Real Beauty Filter") and Media Experts (for "WestJet Plus: Premium Economy for all").
IKEA and Leo Burnett took a Grand Prix for the "Cook This Page" poster, while SickKids and Cossette took the Public Service Grand Prix for their "All In" campaign. The hospital's campaign left with a bag-full of trophies – two Golds and another two Silvers – while its individual "MomStrong" and "Dadstrong" spots each took home a Gold (along with two Silvers and a Bronze).
In addition to its Grand Prix win, "Cook This Page" also took two Golds, as well as a Bronze.
For the the full list of winners and their case studies, check out the Atomic winners page here.
with files from Jeromy Lloyd