Ford cruises to the top: Media Monitors
The auto dealer association took the top buying spot in Toronto while CTV took Montreal.
The Ford Dealer Association was the top radio ad buyer in the Toronto market from March 26 to April 1, according to the latest Media Monitors report.
Ford climbed up from #4 and knocked last week's top buyer, Rogers Internet, out of the top spot and all the way down to #7. The top three spots in the city were all filled by dealer associations: #2 went to the Acura Dealer Association (up from #69) and #3 went to the Honda Dealer Association (up from #5).
New to the list at #4 was TD Insurance, and eBay rounded out the top-five after climbing up from #10.
Predictably, car and truck dealer associations were the most prominent buying category, although their total spots purchased (3,998) were down significantly from the previous week (5,451).
In Montreal, CTV was back on top after several weeks of slipping down the list. The Bell Media-owned network purchased 460 spots.
Two other Bell properties followed; Bell Mobility came in at #2 (down from #1) and Bell at #3 (down from #2). Rounding out the city's top five were the Ford Dealer Association (up from #5) and new entrant Mazda.
The Montreal market also saw three new entrants to the top-10, Corbeil Appliances (#8), Desjardins Insurance (#9) and home renovation retailer Rona (#10).
Wireless carriers were the top buying category again, with 729 spots purchased, although this was down from 955 the previous week.
Toronto, by brand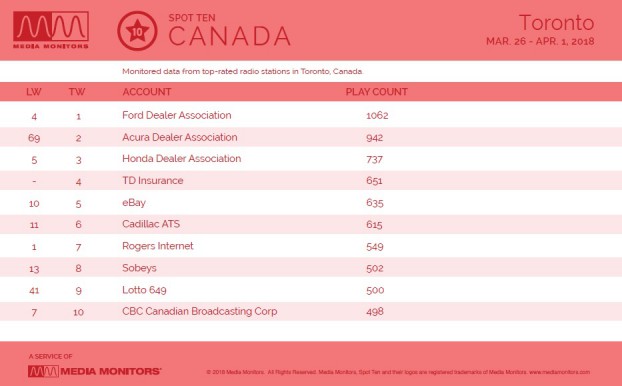 Toronto, by category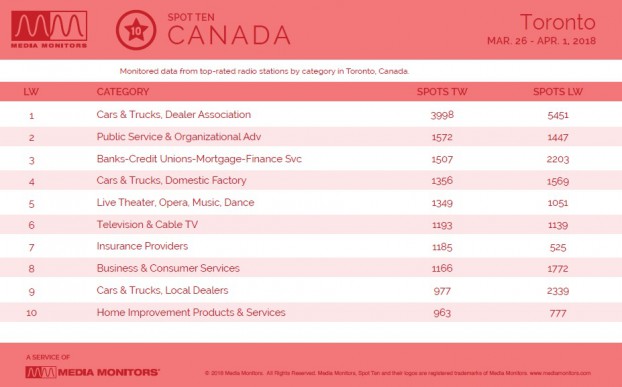 Montreal, by brand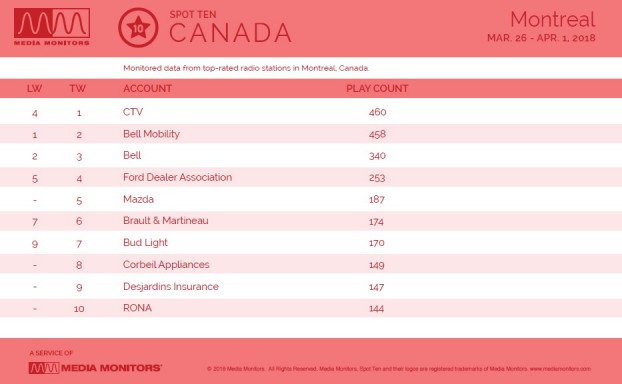 Montreal, by category