Care Canada taps a new OOH strategy
Pairing with Pattison for a "tap-to-pay" campaign, the humanitarian organization is aiming to transform intention into action.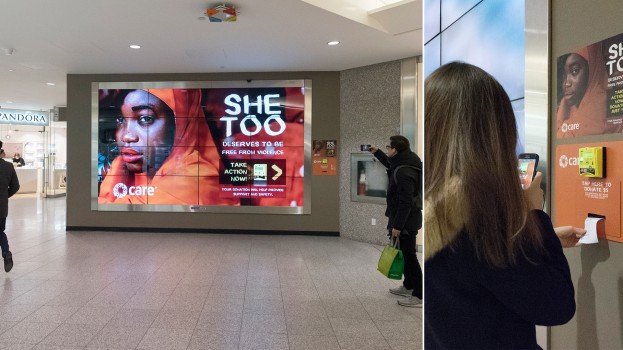 Care Canada's four-week "She Too" campaign incorporates payment technology with its OOH in order to make it more actionable. Its large digital face located at the Royal Bank Plaza in downtown Toronto encourages passersby to donate – and makes it possible to do so on the spot.
The organization that seeks equal rights for women in developing countries debuted the new board that points to a nearby "tap-to-donate" panel, installed next to the digital signage to accept pre-set donations of $5 through debit, credit and smartphone payments.
Care Canada partnered with Jungle Media for the buy and worked with Pattison Outdoor and its digital arm, Fourthwall, which provided the space and technology for the execution.
Catherine Ramsey, media planner at Jungle Media, said the stunt adds a "compelling aspect" to the campaign, saying in a statement that it "bridges the gap between building impassioned awareness and making a real change in the moment."
This isn't the first time Pattison has helped out on a tap-to-pay campaign. To promote Mazda's presence the Canadian International Auto Show in February, Pattison created a similar tap-to-pay option at a billboard (no, no one was purchasing cars, but Mazda did sell a series of collectable posters).
The execution is part of a general awareness campaign that launched March 1. It includes transit interior advertising in Toronto, Calgary and Ottawa, posters throughout Toronto's underground PATH walkway, digital advertising in the city's subway stations, newspaper insertions, TV closed captioning placements, digital displays and other OOH spots.