Corner Gas toon sets a record for Comedy Network
The ratings haul makes the rebooted comedy property the most-watched Canadian series debut in the history of The Comedy Network.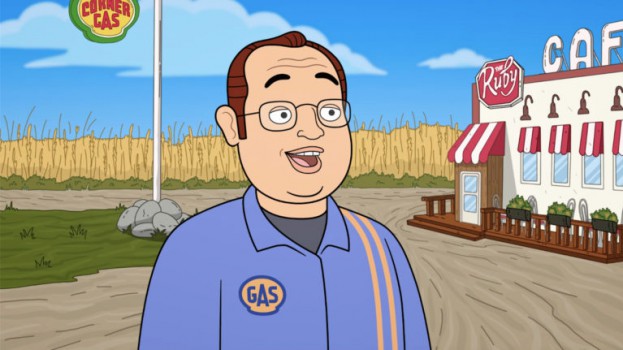 The premiere episode of the Corner Gas animated reboot proved to be a winner for The Comedy Network Monday night, becoming the most-watched Canadian series debut in the history of the channel.
Corner Gas Animated drew 280,000 preliminary overnight viewers, according to Numeris data provided by Bell Media, and was the number one entertainment specialty program in a number of demos (A18-34, A18-49, and A25-54). The 13-part first season airs at 8 p.m. on Monday nights.
Bell Media first announced in December 2016 that it would remake the popular comedy series, seven years after its final season aired in 2009. The half-hour remake features many of the same cast as the original, including lead star and creator Brent Butt, Gabrielle Miller, Eric Peterson, Fred Ewanuick, Lorne Cardinal, Tara Spencer-Nairn, Nancy Robertson and Corrine Koslo.
On top of the fact that the original six live-action seasons drew consistently high ratings, Corner Gas has proven to be an enduring piece of intellectual property for Bell Media in other forms as well. In January 2015, the TV series received a feature-length remake, playing on more than 100 cinema screens across Canada. During its eight-day run, the film was seen by more than 60,000 Canadians and took $694,212 at the box office.
This story originally appeared on PlaybackOnline.ca