Ford holds onto top spot: Media Monitors
CTV held onto the top ad buying spot in the Montreal market
The Ford Dealer Association was the top radio ad buyer in the Toronto market from April 2 to 8  – its second week in a row, according to the latest Media Monitors report.
Meanwhile, Staples soared to #2 from #40 last week, with Visa not far behind at #3 (up from #49). New to the list was OLG at #4, while Steam Whistle climbed to  #5 up from #15 last week.
The category of banks, credit unions, mortgage and financial services category had the most buying power in Toronto this week, with a slight increase in total spots purchased from the previous week.
In Montreal, CTV held onto the top spot, followed by Ford Dealer Association, up from #4. Meanwhile, McDonald's climbed to #3 (from #55), Mitsubishi Dealer Association found its way to #4 from #42 and Re/max made it on the list this week to round out the top-five.
Television and cable TV was the number one buying category in Montreal, however their total total spots purchased dropped slightly. Other popular categories included restaurants and night clubs, car and truck dealer associations and QSR.
Toronto, by advertiser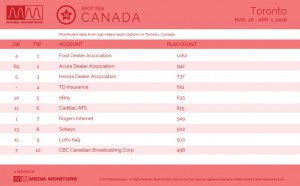 Toronto, by category
Montreal, by advertiser