The Big Bang Theory comes back strong: Numeris
Roseanne also debuted with a bang, taking nearly three million viewers.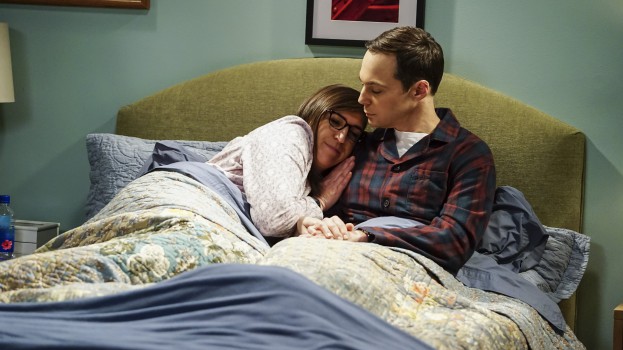 The Big Bang Theory is back, and it's back with a big bang.
After a week off the air, the CTV comedy took in an average of 3.24 million viewers, making it the most-watched single-night program for the week of March 26 to April 1.
But could Big Bang have some competition? Third-place finisher Roseanne, the rebooted 90′s classic, brought in 2.83 million viewers for its first episode. Roseanne also trumped Big Bang in Montreal and Vancouver.
Filling the gap in the national top-five between Big Bang and Roseanne was The Good Doctor, which maintained strong viewership at 3.17 million viewers. Rounding out the top-five were regular favourites Young Sheldon (2.64 million viewers) and Survivor (2.08 million viewers).
La voix continued to dominate the Francophone market, although its viewership dropped to 1.87 million viewers. Meanwhile, Unité 9 made gains and rose to 1.63 million viewers, closing in on the reality show juggernaut.
Canada
1. The Big Bang Theory on CTV Thursday at 8 p.m.: 3.24 million viewers
2. The Good Doctor on CTV Monday at 10 p.m.: 3.17 million viewers
3. Roseanne on CTV Tuesday at 8 p.m.: 2.83 million viewers
4. Young Sheldon on CTV Thursday at 8:31 p.m.: 2.64 million viewers
5. Survivor on Global Wednesday at 8 p.m.: 2.08 million viewers

Montreal (Anglophone)
1. Roseanne on CTV Tuesday at 8 p.m.: 115,000 viewers
2. The Good Doctor on CTV Monday at 10 p.m.: 101,000 viewers
3. The Big Bang Theory on CTV Thursday at 8 p.m.: 97,000 viewers
4. Young Sheldon on CTV Thursday at 8:31 p.m.: 92,000 viewers
5. Designated Survivor on CTV Wednesday at 10 p.m.: 66,000 viewers
Quebec (Francophone)
1. La voix on TVA Sunday at 7 p.m.: 1.87 million viewers
2. Unité 9 on SRC Tuesday at 8 p.m.: 1.63 million viewers
3. L'échappée on TVA Monday at 8 p.m.: 1.27 million viewers
4. Les pays d'en haut on SRC Monday at 9 p.m.: 1.18 million viewers
5. L'heure bleue on TVA Tuesday at 9 p.m.: 1.17 million viewers
Toronto/Hamilton
1. The Big Bang Theory on CTV Thursday at 8 p.m.: 740,000 viewers
2. Roseanne on CTV Tuesday at 8 p.m.: 626,000 viewers
3. Young Sheldon on CTV Thursday at 8:31 p.m.: 623,000 viewers
4. The Good Doctor on CTV Monday at 10 p.m.: 604,000 viewers
5. NCIS: New Orleans on Global Tuesday at 10 p.m.: 526,000 viewers
Edmonton
1. The Big Bang Theory on CTV Thursday at 9 p.m.: 126,000 viewers
2. MacGyver on Global Friday at 9 p.m.: 104,000 viewers
3. Young Sheldon on CTV Thursday at 9:31 p.m.: 102,000 viewers
4T. The Good Doctor on CTV Monday at 8 p.m.: 95,000 viewers
4T. Roseanne on CTV Tuesday at 9 p.m.: 95,000 viewers
Calgary
1. The Big Bang Theory on CTV Thursday at 9 p.m.: 164,000 viewers
2. The Good Doctor on CTV Monday at 8 p.m.: 151,000 viewers
3. Young Sheldon on CTV Thursday at 9:31 p.m.: 138,000 viewers
4. Roseanne on CTV Tuesday at 9 p.m.: 123,000 viewers
5. NCIS on Global Tuesday at 9 p.m.: 92,000 viewers
Vancouver/Victoria
1. Roseanne on CTV Tuesday at 8 p.m.: 224,000 viewers
2. The Big Bang Theory on CTV Thursday at 9 p.m.: 206,000 viewers
3. The Good Doctor on CTV Monday at 10 p.m.: 204,000 viewers
4. NCIS on Global Tuesday at 8 p.m.: 188,000 viewers
5. Young Sheldon on CTV Thursday at 8:31 p.m.: 170,000 viewers