Hendrick's expands its experiential play
After a successful hot air balloon execution in Toronto, the gin brand is going full-out on whimsical public events, starting with Montreal.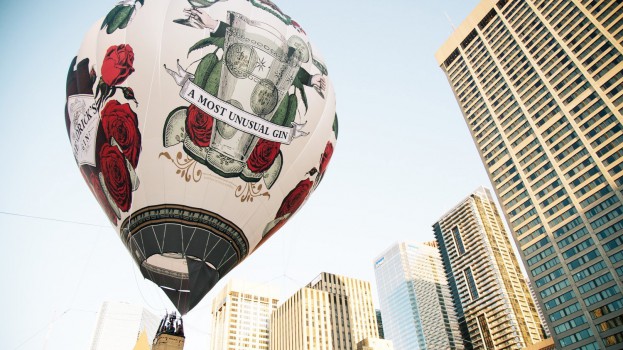 Hendrick's Gin is bringing back one of its most eye-catching experiential displays – and this time, it's taking it to Montreal.
In June, Hendrick's will unveil its ELEVATUM hot air balloon (formerly known as the LEVITATRE) at the annual Festival International de Jazz de Montreal, making it the first hot air balloon to go on display at the fest.
The ELEVATUM (which stands for elevating, levitating, exceptionally voluminous, amazingly towering, uplifting mobile) is a 65′ balloon that will allow festival-goers to float at 44.25 feet (the equivalent of 44 1/4 cucumbers). It will be stationed in the Quartier des Spectacles in Montreal for the two opening days of the festival (June 28 and 29), along with a branded lounge with music, entertainment and sampling.
Beth-Anne Perry, senior national brand manager for Hendrick's Gin, said the stunt is a continuation of Hendrick's ongoing branding as a drink that "cultivates the unusual." She added that because the festival tends to attract international visitors, it will bring that messaging to a global crowd.
Hendrick's first unveiled the hot air balloon at Toronto's Nuit Blanche art festival last fall.
Perry told MiC the activation was a huge success for the brand. The contest to win a VIP ride in the balloon resulted in 5,000 entries, which she said is five times the global average for the brand's international contests. The City of Toronto confirmed that 1.5 million people went through the City Hall/Nathan Phillips Square area where the balloon was stationed during the event, and Hendrick's hosted 395 balloon riders in 12 hours.
Perry said the pre- and post-event social media campaign also scored three times the global average for relevancy on Facebook, with impressions two times greater than any other Hendrick's ad on the platform. In addition, 281 media pieces covered the balloon stunt. Following the Nuit Blanche activation, Perry said the brand made it a mission to do "whimsical" experiential public space activations more often, aiming for one every six months or so.
The Festival International de Jazz Montreal attracts approx. two million spectators per year, and according to the festival organizers, drew 30% more targeted tourists in 2017 than in 2016.