Snapchat rolls out a Shoppable AR Lens
The new lens allows advertisers to redirect users to shop products, download apps or watch branded videos.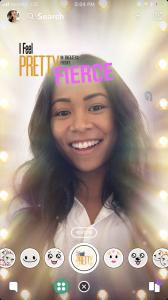 Snapchat launched the Shoppable AR Lens on Wednesday, creating a new way for advertisers to connect with consumers in their path to purchase.
According to a statement released by Snap, 70 million people play with lenses in the Snapchat camera each day. Now, brands can capitalize on that audience by adding a "shop," "watch" or "install" button to their Shoppable AR Lens, which can connect users to websites, videos or the app store — all within Snapchat.
So far, brands launching their own Shoppable AR lenses include Clairol, Adidas, app developer King (responsible for Candy Crush) and media company STX Entertainment, which is promoting a trailer for Amy Schumer's upcoming film I Feel Pretty.
The industry has seen a flurry of brands going direct-to-consumer using shoppable features on social platforms and even within videos over the past couple of years. Facebook and Instagram recently launched their own in-app shoppable feature, while L'Oreal has been exploring the shoppable video space for some time. Amex itself launched a program that allowed attendees at Coachella to purchase products through the festival's official app.
The lens is one of many new features Snapchat has rolled out since its app redesign in February, including group video chat, SnapMap and the ability to tag users in posts.