Spotted! Catholic Church takes a cue from Siri
A fundraising campaign led by DentsuBos aims to reach younger audiences in support of the church in Montreal.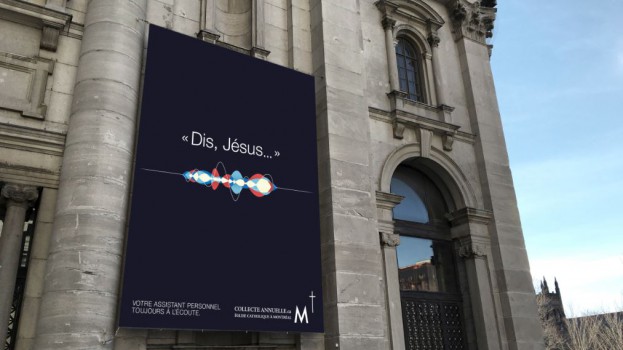 For this year's annual fundraising campaign, the Catholic Church of Montreal is taking a more digital approach in an effort to reach a younger audience.
The campaign, led by DentsuBos, is inspired by the prevalence of voice assistants likes Siri and Alexa. The creative assets draw similarities between speaking directly to Jesus ("Your personal assistant who's always listening") and the manner in which a user might activate a voice assistant by saying things like "Hey, Siri."
In play since April 8 and running for a total of four weeks, the campaign is focused on the Montreal market and is running on digital and social channels, in addition to an out-of-home execution. Across all channels, assets will focus on messages that speak to the impact that charitable acts have on daily life.
This year, the church has not set a specific fundraising goal, but it has its sights on exceeding the amounts raised in the past and hopes engaging with a younger audience will help it bring in new donations.
"Giving [the campaign] a more digital slant – to reach a younger audience where they live and breathe online – will create a more meaningful touchpoint for the Catholic Church of Montreal with their community and supporters," said Sebastien Rivest, EVP and general manager at DentsuBos, in a press release.
The agency previously worked on a OOH campaign for the Champlain Bridge in Montreal, which similarly drew on notions of praying. At the time, the bridge was undergoing repairs to address safety concerns. According to Rivest, Dentsu created a billboard that encouraged passers-by to "say their prayers," a message that had strong local relevance and helped generate awareness around the safety of the bridge.