CTV trio takes the top three spots: Numeris
Plus, Rick's final rant pulls in big numbers.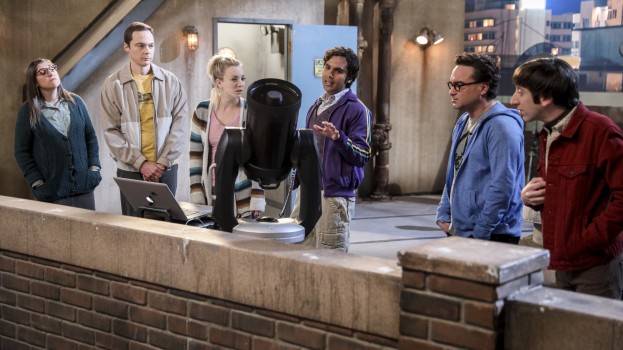 Once again, The Big Bang Theory was Canada's most-watched TV program for the week. Sheldon, Leonard and friends pulled in an average audience of 3.22 million, gaining slightly over its audience from last week.
CTV swept the top three of all single-night programs for the week of April 9 to 15. Coming in second was Big Bang's prequel, Young Sheldon, which averaged 2.62 million viewers. Roseanne came in third, pulling in 2.29 million viewers and coming close to its premiere numbers.

In fourth place was Survivor on Global with 2.02 million viewers. Finally, rounding out the top five was the final episode of The Rick Mercer Report. Rick's final rant on CBC (airing at the same time as Roseanne) pulled in just shy of 1.6 million viewers.
Big Bang and Young Sheldon scored high in all Anglophone markets, while Roseanne placed in the top five of every English-speaking market except for Vancouver/Victoria.
Canada
1. The Big Bang Theory on CTV Thursday at 8 p.m.: 3.22 million viewers
2. Young Sheldon on CTV Thursday at 8:31 p.m.: 2.62 million viewers
3. Roseanne on CTV Tuesday at 8 p.m.: 2.29 million viewers
4. Survivor on Global Wednesday at 8 p.m.: 2.02 million viewers
5. The Rick Mercer Report on CBC Tuesday at 8 p.m.: 1.6 million viewers

Montreal (Anglophone)
1. The Big Bang Theory on CTV Thursday at 8 p.m.: 116,000 viewers
2. Young Sheldon on CTV Thursday at 8:31 p.m.: 93,000 viewers
3. Roseanne on CTV Tuesday at 8 p.m.: 86,000 viewers
4. The Crossing on CTV Monday at 10 p.m.: 68,000 viewers
5. Law and Order: SVU on CTV Wednesday at 9 p.m.: 60,000 viewers
Quebec (Francophone)
1. La voix on TVA Sunday at 7 p.m.: 2.02 million viewers
2. Unité 9 on SRC Tuesday at 8 p.m.: 1.66 million viewers
3. 1res fois on SRC Thursday at 8  p.m.: 1.18 million viewers
4. Hubert et Fanny on SRC Tuesday at 9 p.m.: 1.17 million viewers
5. Tout le monde en parle on SRC Sunday at 8 p.m.: 1.15 million viewers
Toronto/Hamilton
1. The Big Bang Theory on CTV Thursday at 8 p.m.: 694,000 viewers
2. Young Sheldon on CTV Thursday at 8:31 p.m.: 605,000 viewers
3. Roseanne on CTV Tursday at 8 p.m.: 512,000 viewers
4. Survivor on Global Wednesday at 8 p.m.: 487,000 viewers
5. The Rick Mercer Report on CBC Tuesday at 8 p.m.: 399,000 viewers
Edmonton
1. The Big Bang Theory on CTV Thursday at 9 p.m.: 124,000 viewers
2. Young Sheldon on CTV Thursday at 9:31 p.m.: 95,000 viewers
3. Roseanne on CTV Tuesday at 9 p.m.: 92,000 viewers
4. Hawaii Five-O on Global Friday at 10 p.m.: 82,000 viewers
5. MacGyver on Global Friday at 9 p.m.: 76,000 viewers
Calgary
1. The Big Bang Theory on CTV Thursday at 9 p.m.: 145,000 viewers
2. Young Sheldon on CTV Thursday at 9:31 p.m.: 114,000 viewers
3. Hawaii Five-O on Global Friday at 10 p.m.: 85,000 viewers
4. Roseanne on CTV Tuesday at 9 p.m.: 82,000 viewers
5. Survivor on Global Wednesday at 9 p.m.: 77,000 viewers
Vancouver/Victoria
1. The Big Bang Theory on CTV Thursday at 9 p.m.: 211,000 viewers
2. Young Sheldon on CTV Thursday at 8:31 p.m.: 191,000 viewers
3. The Rick Mercer Report on CBC Tuesday at 8 p.m.: 180,000 viewers
4. Designated Survivor CTV Vancouver Wednesday at 10 p.m.: 145,000 viewers
5. Survivor on Global Wednesday at 8 p.m.: 143,000 viewers