Gadoua leans heavily on TV in new awareness campaign
The Quebec bread brand paired with Groupe V for activations on its linear and digital properties.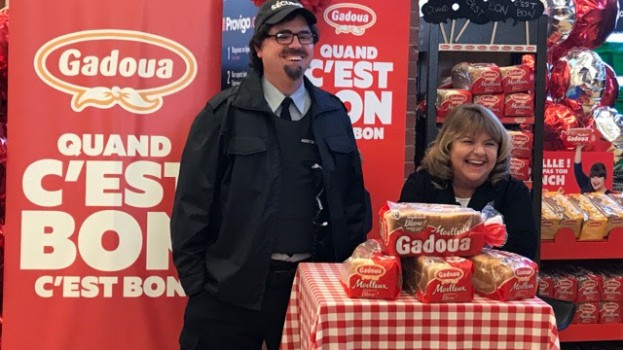 Quebec bread brand Gadoua recently took a new approach to marketing when it partnered with Groupe V Média for promotion and integration on multiple properties and platforms.
In an effort to drive brand awareness, Gadoua engaged Quebec actress and comedian Lise Dion as an influencer. Dion made an appearance on Groupe V's new variety series Le show de Rousseau to launch a contest on Groupe V's digital site, Noovo.ca, that would award 100 winners with a year's supply of Gadoua bread.
A second TV activation saw Dion pairing with comedian Dominic Paquet for a sponsored stunt that involved the two celebrities pranking grocery store customers. While the prank will air tonight during the commercial break of the season finale of Paquet's comedy, prank and sketch series, Mets-y le Paquet, the stunt was structured and filmed exactly like it is on the show. This is the first time Groupe V has created a commercial to blend in with its TV content.
The campaign also extends to digital. An excerpt from the stunt has already begun airing as pre-roll in the outstream videos on Noovo.ca. Gadoua is also currently the web sponsor of both Le show de Rousseau and Mets-y le Paquet on their respective Noovo pages. The brand also sponsored posts featuring Dion and Paquet on Facebook.
The contest is also being promoted through OOH, digital banner advertising and in-store activations. Dentsu led the media buy, while Gadoua and Groupe V worked with 6e Sens, Entourage Group and Groupe Fair-Play on talent management and production.