Matthew Logue on MKTG's big win
After the Sponsorship Marketing Council Canada crowns it Agency of the Year, MKTG's president reflects on what's driving change in the sponsorship industry.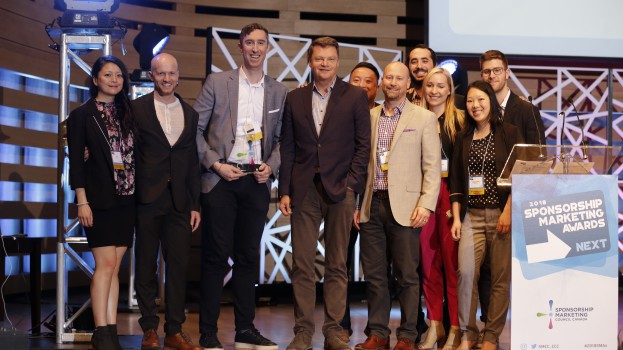 Last week, MKTG was named agency of the year by the Sponsorship Marketing Council Canada.
This was the agency's first win as MKTG (last year, it won as S&E Sponsorship Group just prior to its rebranding as MKTG, which came following its acquisition by the Dentsu Aegis Network). Newly minted president Matthew Logue is quick to credit the agency's "tremendous clients" for the win, and said that these clients are leading the charge not only in amplifying MKTG, but also in the sponsorship industry in general.
While one of MKTG's biggest success stories of the past year was Scotiabank – the financial institution made major expansions on its hockey play, including acquiring the naming rights to the soon-to-be-former Air Canada Centre – Logue said Sun Life Financial also played a big role in the agency's success.
The highlight, he said, has been around Sun Life's work with the Toronto Raptors and NBA Canada. On top of a visibility play (Sun Life secured a patch spot for its logo on the Raptors' jerseys), Logue said MKTG has worked on fully integrating Sun Life and the sporting bodies. One example is Sun Life's campaign around the prevention and treatment of Type 2 diabetes, he said. "We're taking the energy and excitement that youth has about basketball and are inspiring them to get active through a self-guided curriculum, culminating in a big celebration where we bring NBA talent and assets to it."
Logue said it's an example of what sponsorship needs to be. "We could have stopped at just getting great branding and visibility, but that wasn't what the client wanted to stop at."
Logue said that in the future, he hopes sponsorship is seen as a more integral aspect of important campaigns.
"We're in an industry that has so much potential. In some ways, sponsorship as a classification on its own does the industry a disservice," he said. "It makes it seem like it's this thing that lives on its own, but we look at it as people-based marketing, and discovery based on behaviour. Brands that do it right are going down their own path." He pointed to GoDaddy, which partnered with the Toronto Raptors for a comedic brand awareness play. "Sponsorship , when done right, amplifies that [discovery based on behaviour] and ultimately drives home the reason for being in the first place. It's a purpose-based approach."
When thinking about the year ahead, Logue said the people within the agency come first and foremost. "We're always looking at internal advancements where we can," he said. "We think that's a really good ingredient for success."
He added that he wanted to find new ways for the company to integrate data to gain faster insights for clients.
"Because we view our industry segment as people-based marketing, that's one of the biggest reasons data has become so integral. It allows clients to reach people in the most contextual way."